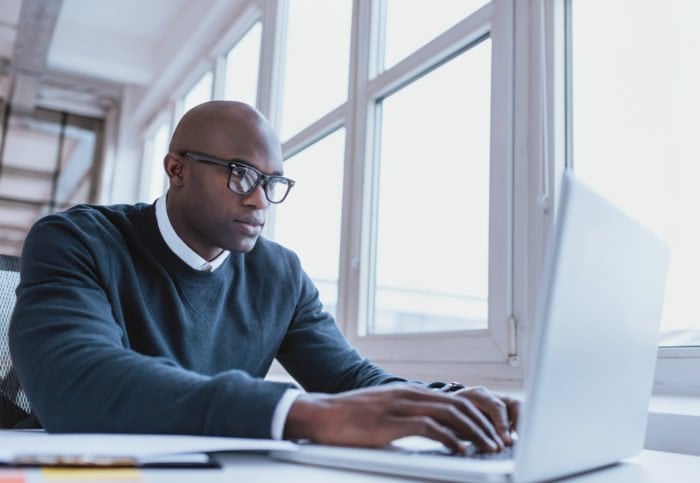 If you've been looking for a way to get more Instagram followers, chances are you've come across Mr. Insta. They offer free followers and likes, as well as a host of paid offerings for Instagram and other social media platforms. When you're ready to increase the followers for your Instagram account, it's a good idea to compare various options. Let's take a look at how Mr. Insta and Kicksta growth services compare to one another.
Quick Links
Show ▼ Hide ▲
How They Work
How Mr. Insta Works
Mr. Insta's services are focused on buying followers for Instagram. They do, however, offer a free service, too. In order to receive free followers from Mr. Insta, you'll need to start off by following a small number of accounts or liking their posts.
Once you confirm this, you'll activate your account and earn coins. You can redeem these coins for followers or any of Mr. Insta's other services. You can activate your account once every 12 hours, but you'll need to remember to do so yourself. If you're willing to pay for automatic followers, you won't need to follow any targeted profiles, and your followers will continue to come in automatically. Beyond that, Mr. Insta doesn't give a clear indication of how they find followers for you.

How Kicksta Works
Once you sign up for your account on Kicksta, you'll be able to adjust your targeting options so Kicksta can find the best followers for you. You can target competitors, other brands in your industry, or even influencers with the same target audience as you. Then, with Kicksta's high-performing AI technology, they'll begin to engage with the type of followers you want to attract.
Once those users start to see your name appear in their app, they'll most likely visit your profile and choose whether or not to follow you. Because Kicksta guarantees you real followers, through their traditional engagement marketing tactics, they can't promise you a particular number. Your new followers will choose to follow you themselves, resulting in organic growth.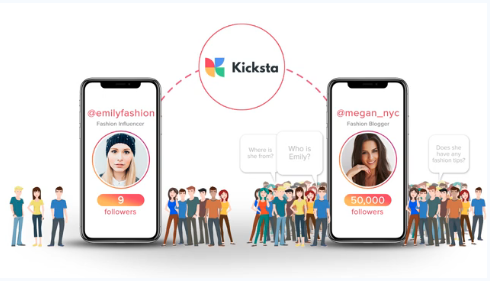 Features
Mr. Insta
When you sign up for a paid plan with Mr. Insta, you'll get either 15, 40 or 100 new followers every day for a month, depending on the plan you choose. You must have a public profile and can cancel anytime. If you choose to purchase one lump sum of followers instead of subscribing to an automatic plan, you'll receive more followers than you purchased within three days. And, these purchases come with a refill guarantee in case many accounts choose to unfollow.
Kicksta
There are many benefits and features you get when you subscribe to a Kicksta plan. You can access smart targeting options to ensure that the followers you gain are as accurate as possible. When choosing the types of accounts you'd like to have following you, you can also blacklist any types of accounts you'd like to avoid. If you're trying to determine which kinds of accounts you'd like to target, Kicksta can also suggest some potential options for you.
Target influencers and competitors, or branch out and set hashtags and location tags as targets. Anything that your ideal followers use, tag or engage with on the app could be a valid target to attract them to your account. Higher Kicksta plans also offer gender targeting if your brand specifically applies to a particular gender. When choosing the types of accounts you'd like to have following you, you can also blacklist any accounts you'd like to avoid. This comes in handy if you particularly don't want to target competitors. You can also put certain accounts on a whitelist. This will let Kicksta know not to engage with them because you've already interacted with them. Any accounts that follow you because of Kicksta's tactics will automatically be put on the whitelist. Speaking of automatic features, Kicksta will also automatically mute the accounts they follow on your behalf to keep your feed clear to show the content you want to see.
Higher-level Kicksta plans also offer targeting suggestions if you'd like guidance. With these plans you can also access additional engagement options: Welcome DMs and Story likes. Welcome DMs are automatically sent to your new followers to immediately begin building a relationship. Story likes are exactly like they say. Many Instagram users are skipping the feed and focusing primarily on Stories, so by liking Story posts you might have a stronger chance of getting someone's attention.
Dashboard & Analytics
Mr. Insta
Once you create an account with Mr. Insta, there's not much more you need to do. You'll get to choose your interests, and then you'll select the plan you'd like to have. Beyond that, there isn't a dashboard or set of analytics for you to review or access on their site. You'll need to track your follower growth within Instagram or on a third-party app.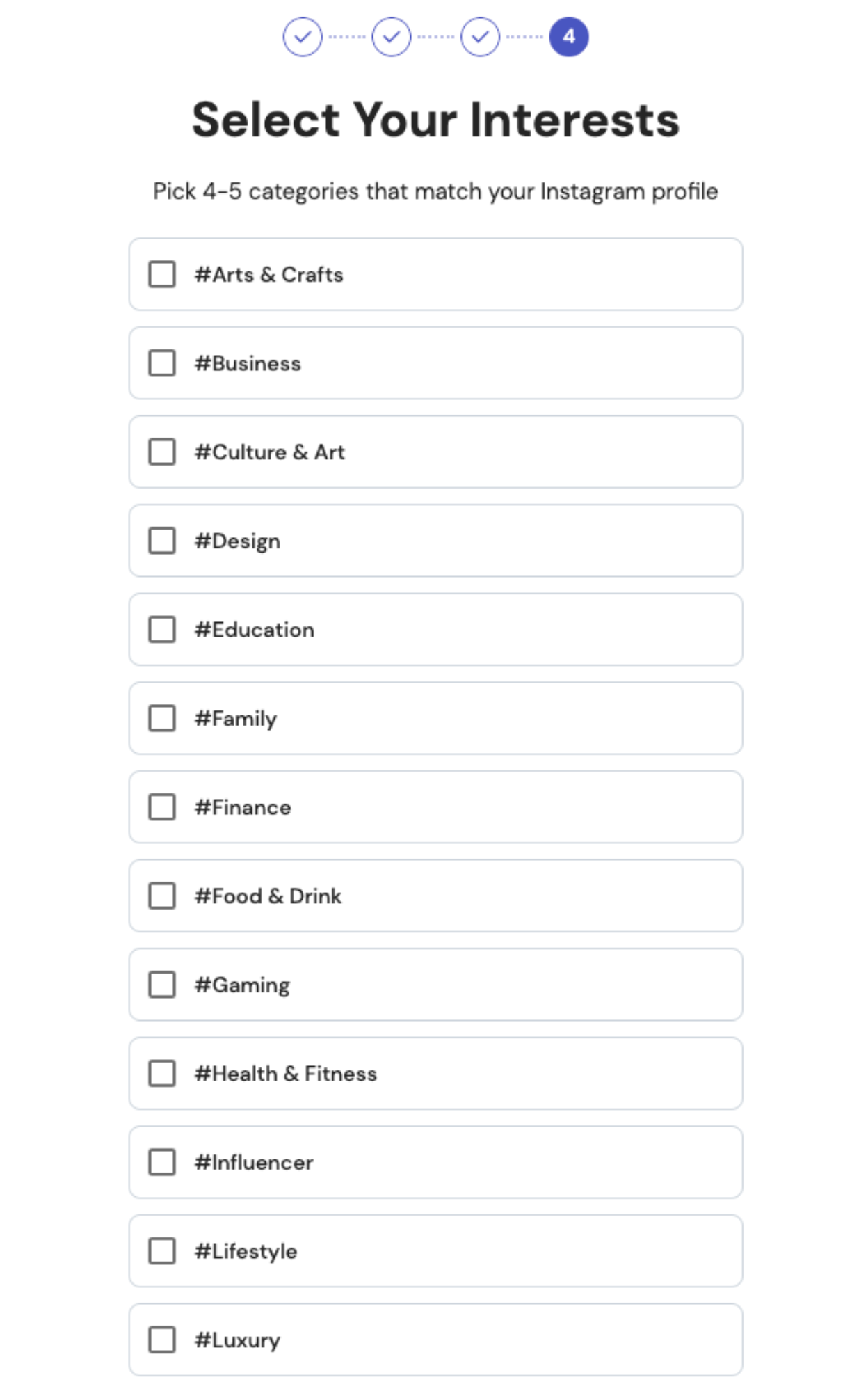 Kicksta
You can log into your Kicksta account at any point to make changes to the types of accounts you'd like to be following, and to see your analytics. You can watch your follower growth over time, and see the day-by-day changes.
Beyond this, you can go one step farther to see which target accounts are performing well and which aren't bringing you many followers. You can use this information to adjust your targets and find the right combination to attract the most relevant followers.
With Kicksta's analytics dashboard you can also check on the progress of your growth with the graphs they provide.
Pricing
Mr. Insta Pricing
Mr. Insta offers a free plan where you can activate your account multiple times to earn coins. Then, you can turn those coins in for free followers. However, you have to remember to actually come back and activate the account. If you want to pay for followers, though, Mr. Insta offers that option, too.
You can spend anywhere from $10 for 250 followers to $350 for 20,000 followers in a one-time purchase.
Or, you can sign up for a weekly or monthly subscription and get a discount on those prices. It's a small discount, though. Weekly subscribers will pay $8.50 per week for 250 weekly followers, and monthly subscribers will pay $9 for 250 followers per month.
Another thing to note is that when you click their option for Highly Targeted Followers, the link leads you to an external site that also offers Instagram growth.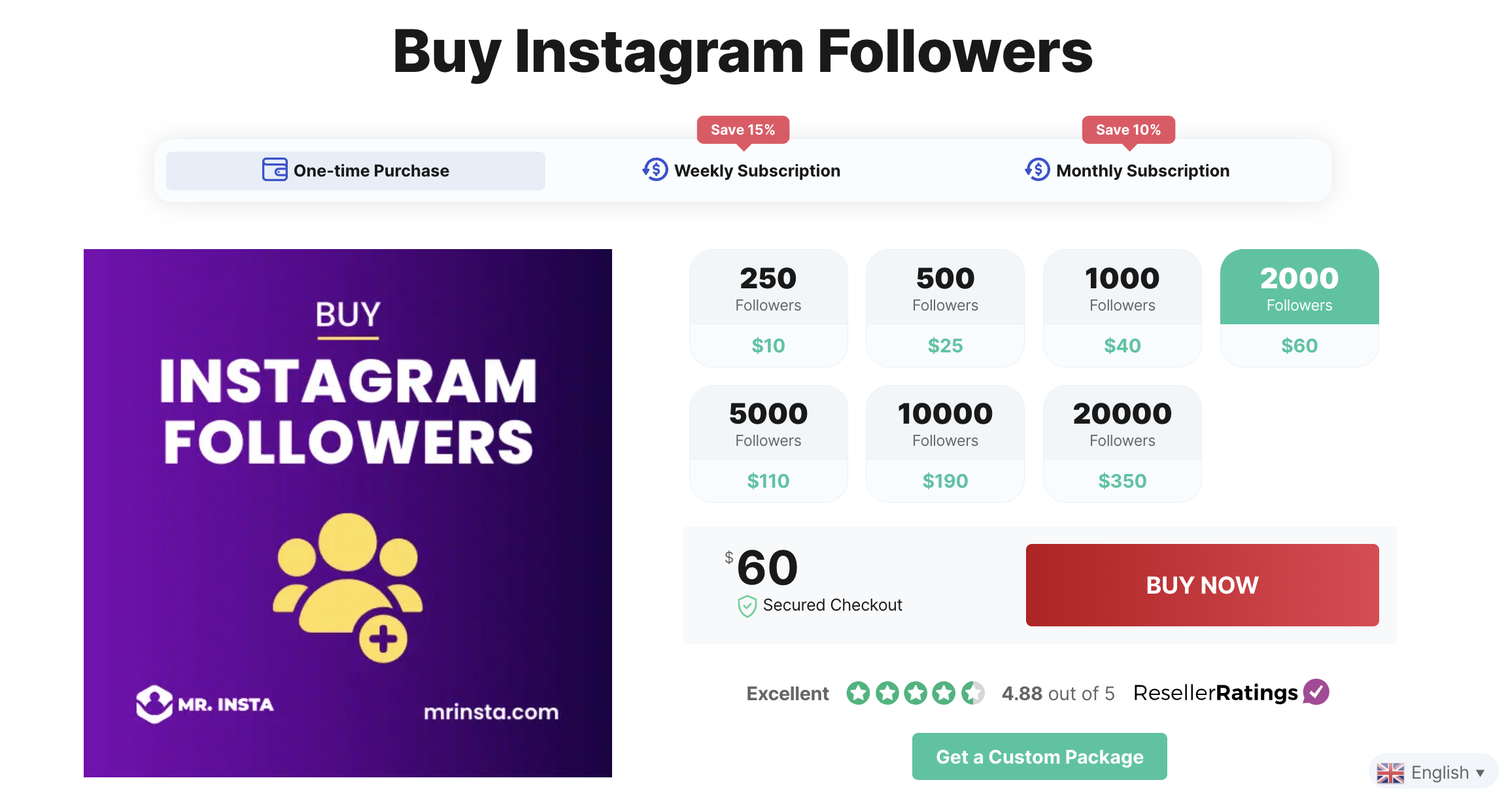 If you'd like to buy followers just once, you can also do that, as they offer a variety of packages. These range from 250 followers for $10 all the way up to 10,000 followers for $190.
Kicksta Pricing
At Kicksta, you can choose from the Starter Plan for $69, the Advanced Plan for $129 or the Ultimate Plan for $219. All three of these options are monthly subscriptions, and you can cancel anytime. When you first get started, you'll have access to a 7-day free trial.
All three plans offer basic targeting, blacklist and whitelist capabilities, the clean home feed, and access to a dashboard to be able to view and analyze your growth.
With Advanced, you'll have access to the gender filter and additional ways to access Kicksta support. You'll also unlock the Welcome DMs and Story Likes, as well as targeting suggestions. The Advanced plan also has a higher growth speed than Standard.
The Ultimate Plan allows you to amplify your growth by guaranteeing 2,000 followers per month on top of those you'll gain through Kicksta's engagement-based growth service. These 2,000 followers come from a partnership with InfluenceGrid, which uses a network of influencers that run promotions to generate followers. The Ultimate plan also has the fastest growth speed.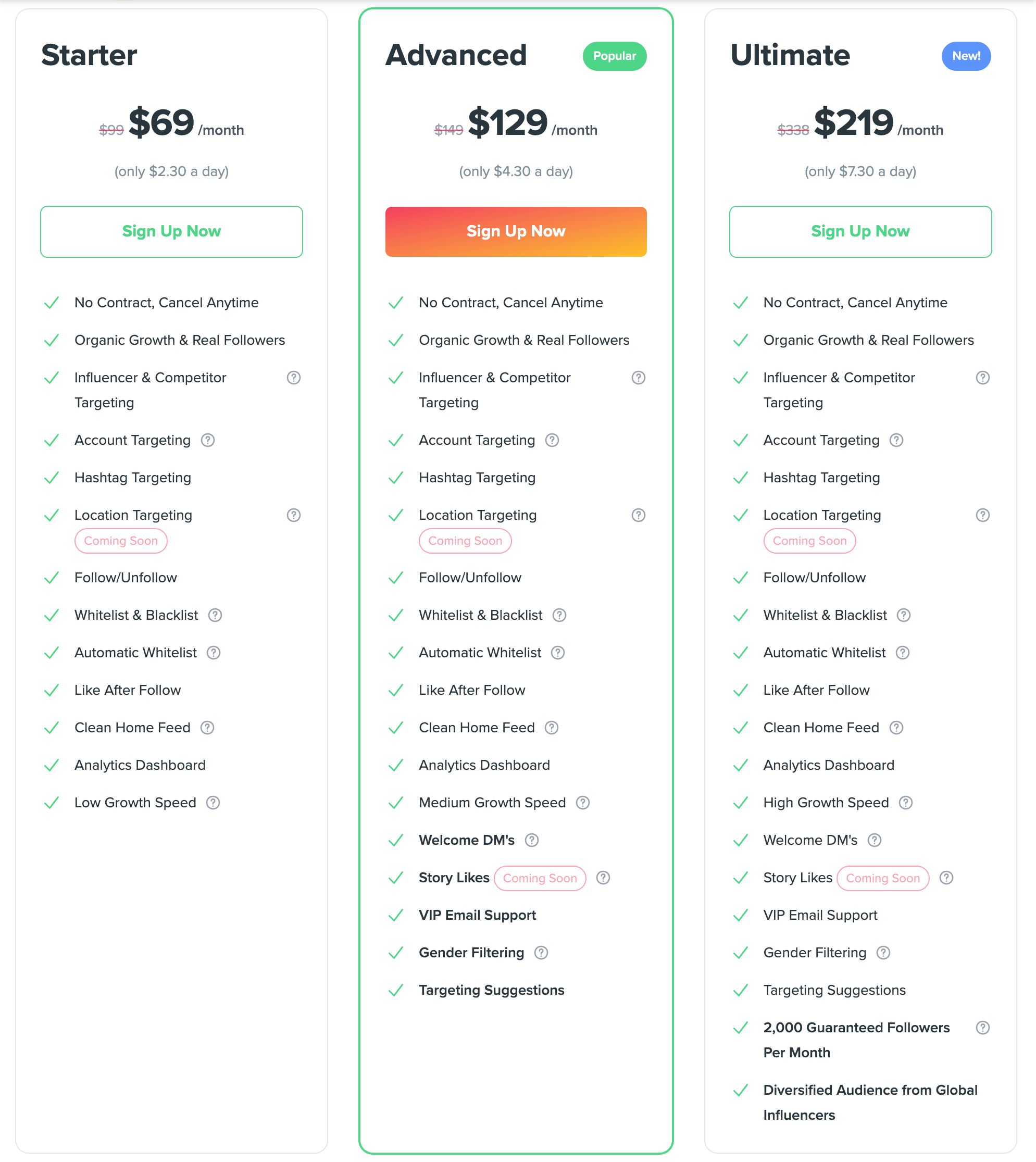 Customer Support
Mr. Insta Support
At Mr. Insta, they say that service and support is their strong suit. They guarantee less than 24 hour response time after they receive your message. They have a messenger app within their website that you can use to contact them at any time.


Kicksta Support
For anyone browsing the website, Kicksta offers a contact page that will get your message to the right people. For Advanced and Ultimate customers, Kicksta offers VIP email support. There are also plenty of FAQs, blogs, and case studies available on the website to help answer questions too.
Reviews
Mr. Insta
Overall, Mr. Insta has 4.8 stars on Trustpilot, based on 983 reviews. However, some of their 5-star reviews say the same thing over and over. This could be an indication that they might not be genuine. So, read through them and make your own decision. Many of the reviewers say that they had a great experience and Mr. Insta really helped them grow their followers. Others, though, say it's a waste of money and that the followers disappear soon after they were received.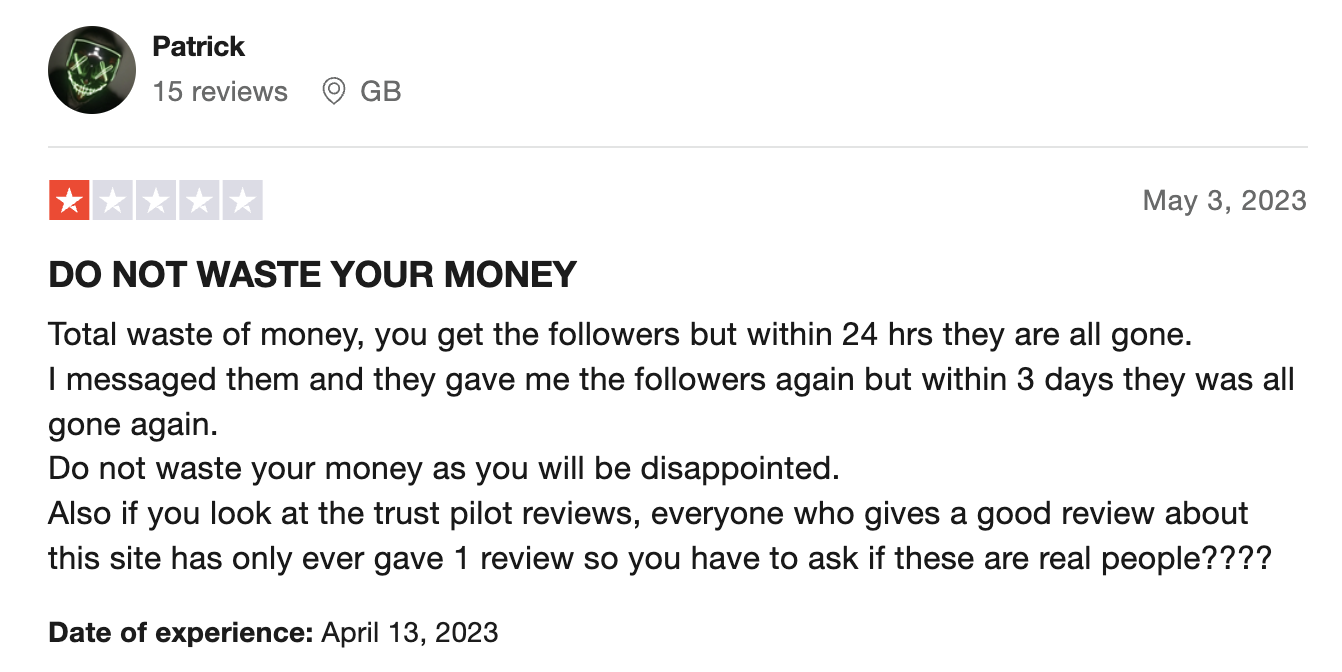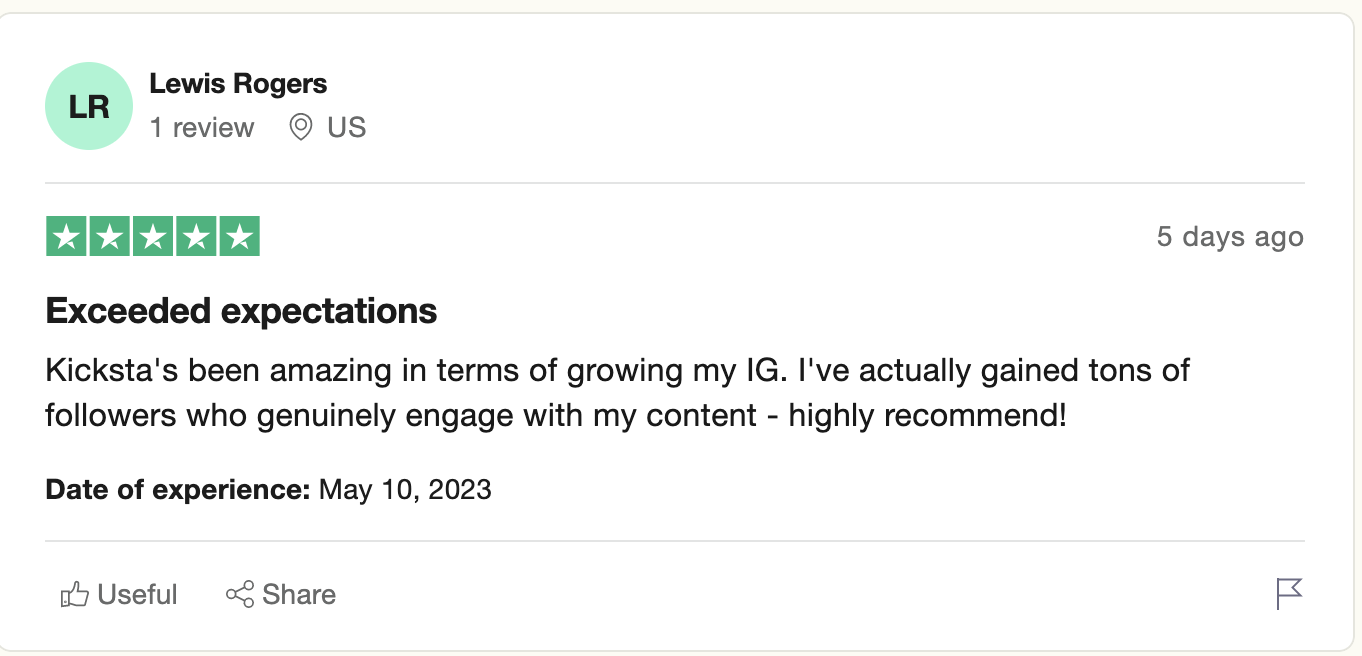 Kicksta
Customers are also loving the service that Kicksta provides. On Trustpilot Kicksta has a 3.0 star rating. Customers like how easy it is to navigate the interface, and they're happy with the quality of followers they receive, too.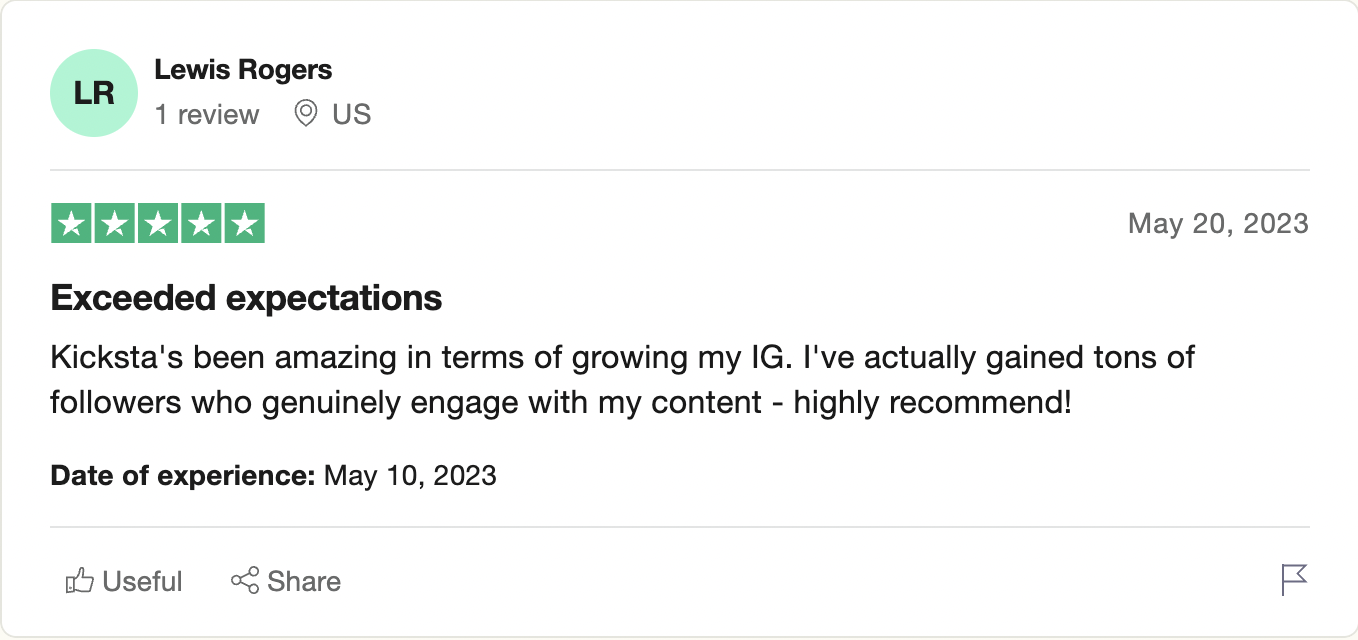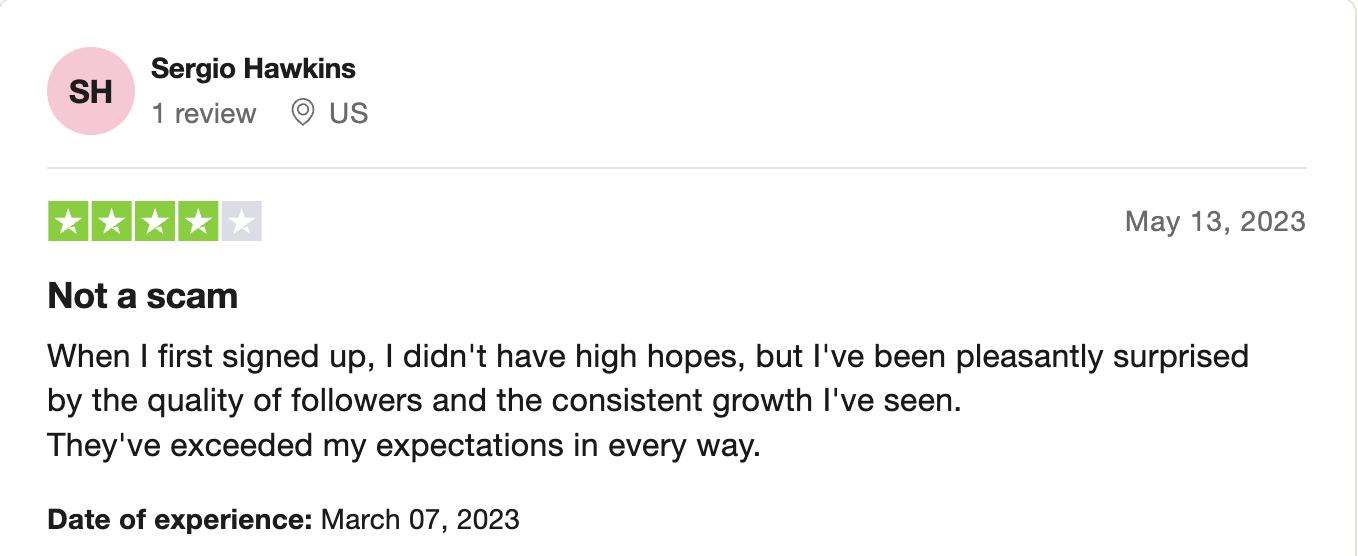 Final Verdict
Customers of each company are happy with the service they receive, but it's hard to know exactly how you're getting your followers from Mr. Insta. They don't show their process online, while Kicksta tells you exactly how they gain you followers.
They're also guaranteeing a very large number of followers to be delivered to you within 24 hours, which is a little strange. Real people need time to decide to follow you, and immediate delivery like that is hard to believe.
So, if you're looking to grow your Instagram following with real, organic followers who are excited to see the posts you create, Kicksta is the better choice of the two.
They're here to help you every step of the way. Get started today.