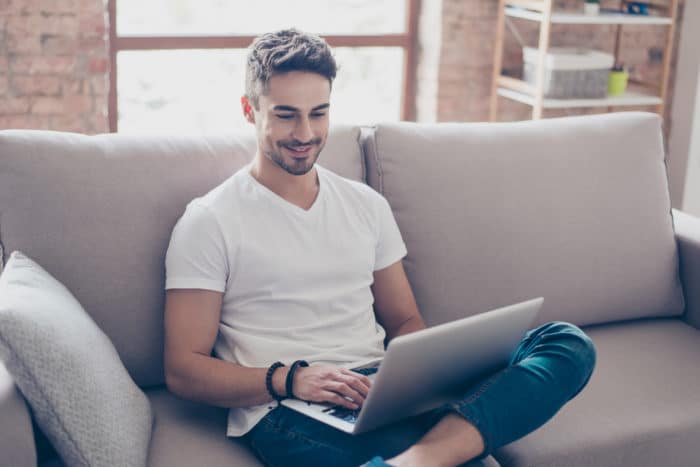 When you're using Instagram for your business, one of the main things you'll likely want to focus on is growing your following, as you would with any social media platform. There are many platforms and automation tools out there that you can use to help you with Instagram growth, but it's always a good idea to compare these types of tools before you actually choose one. We've devoted this post to breaking down both of these Instagram growth tools so youso you can attract real followers and avoid the Instagram bots.
Quick Links
Show ▼ Hide ▲
Setup
How To Set Up A Nitreo Account
Nitreo claims to have a "2-minute" setup system, so you should be able to get started fairly quickly. Simply enter your email, create a password, and then add basic information like your name. You'll need to sign in with your Instagram username and password.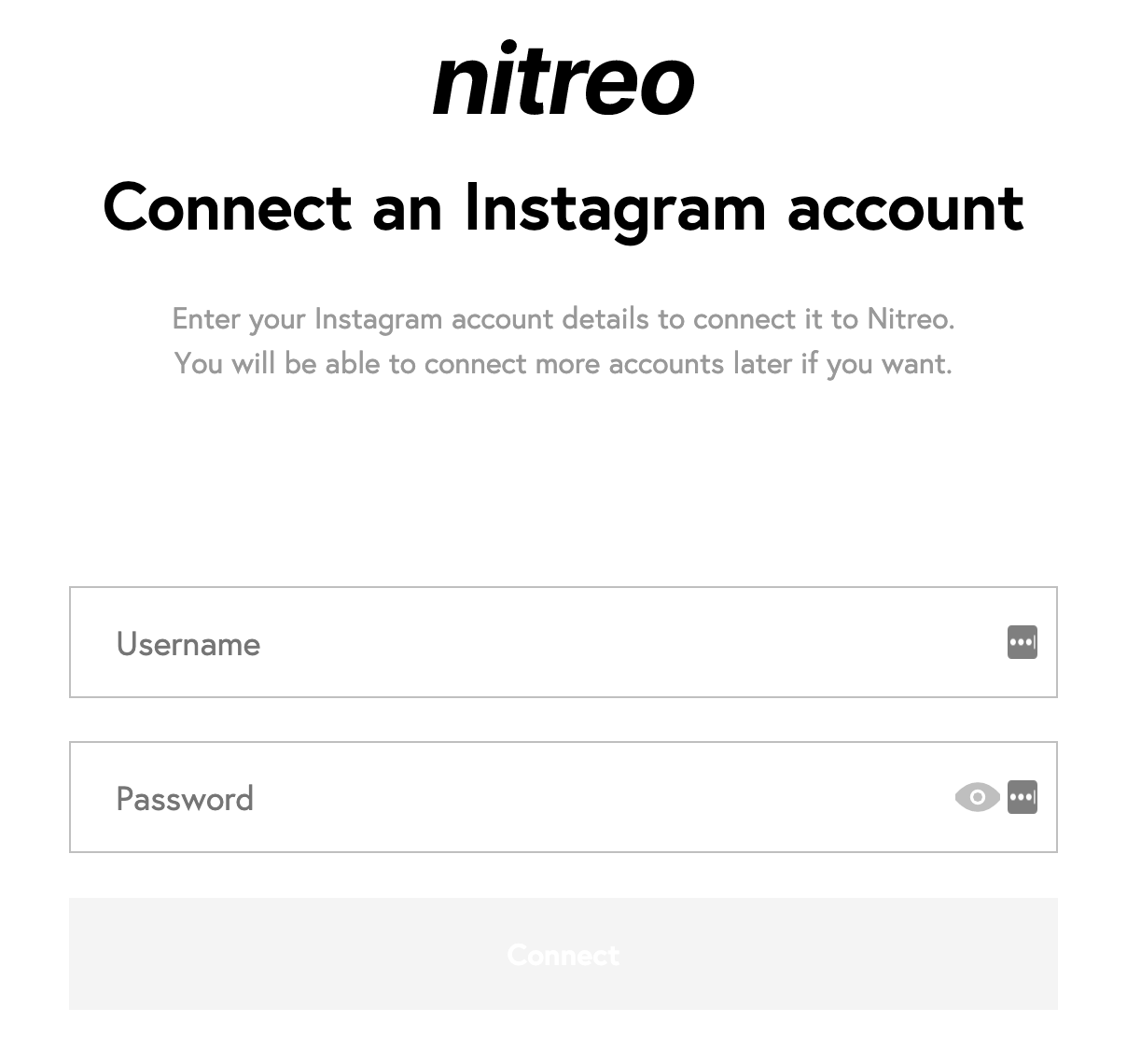 Once you do that, you'll add the targets you want Nitreo to focus on for you. You can add hashtags and use their tools and filters to target your ideal accounts. Once you've made your selections, you'll need to be patient. It takes about 48 hours for Nitreo to really start working to grow your account. Once you wait, though, you'll soon start seeing what kinds of results are possible.
How To Set Up A Kicksta Account
Creating a Kicksta account is simple. Begin by clicking "Choose A Plan," and you'll be taken to the signup screen. There you can select the plan you want and enter your payment details, and then you'll be good to go. Once you've successfully made your purchase, you can link your Instagram account, choose your target profiles, and customize your account to be as productive as possible for you.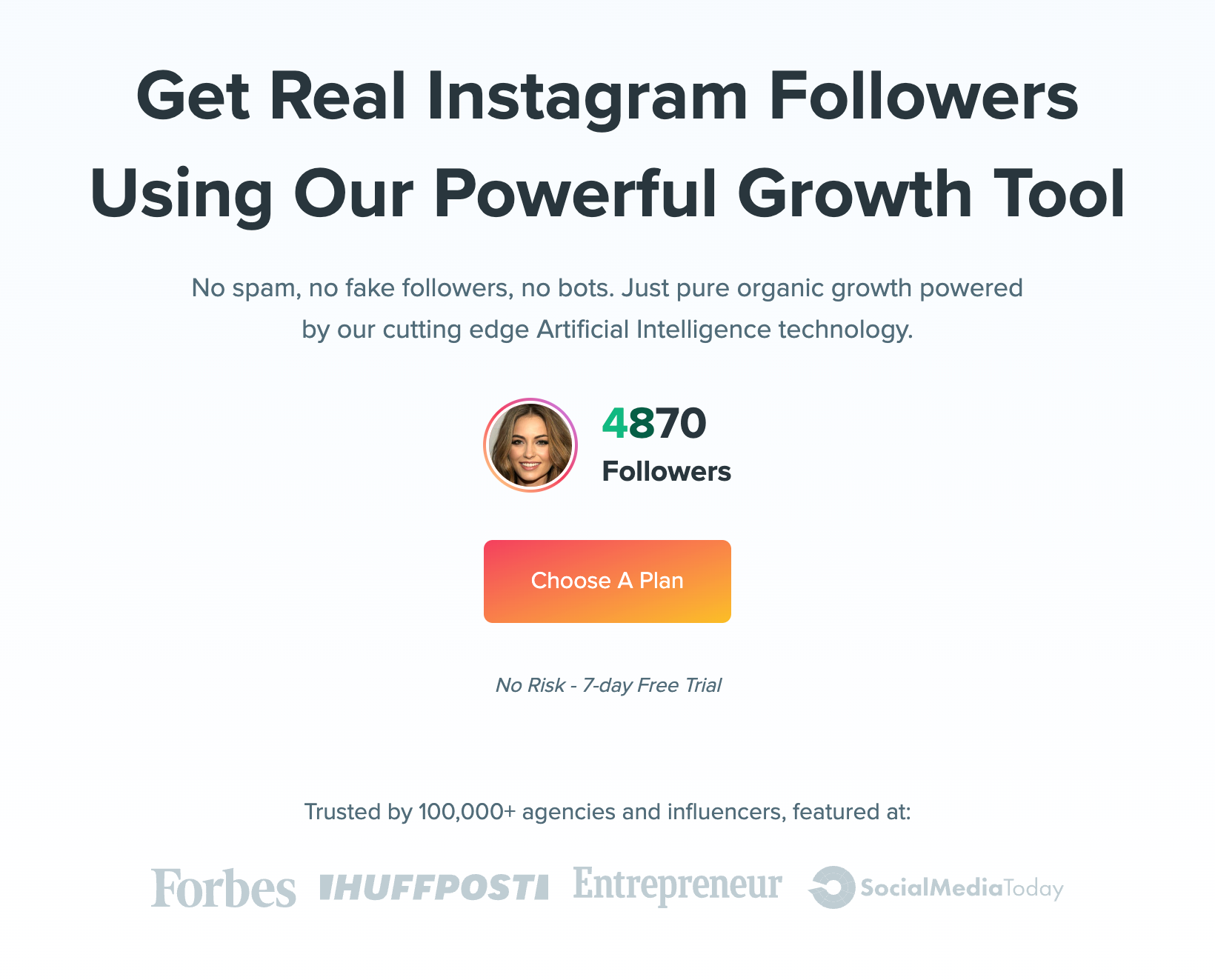 Features: Nitreo vs. Kicksta
Main Features Of Nitreo
This might be the most important part of our Nitreo review. The primary growth feature they use is following and unfollowing. They'll target users that are relevant to your niche, and then follow them to gain their attention. This makes them likely to check out your profile and potentially even choose to follow you, depending on if they like what they see.
Nitreo's other major growth feature is Instagram Story viewing. By viewing Stories, you'll show up as a viewer, and they might choose to check out your account to see what your profile is like. Nitreo helps you to view hundreds of Stories each day.
Finally, Nitreo offers comment liking and Instagram Live reactions, too. They'll go through and like certain comments on your behalf to again try to attract your ideal follower's attention. With Instagram Live reactions, Nitreo will auto-post reactions for you so that all viewers of a certain Instagram Live see your reaction.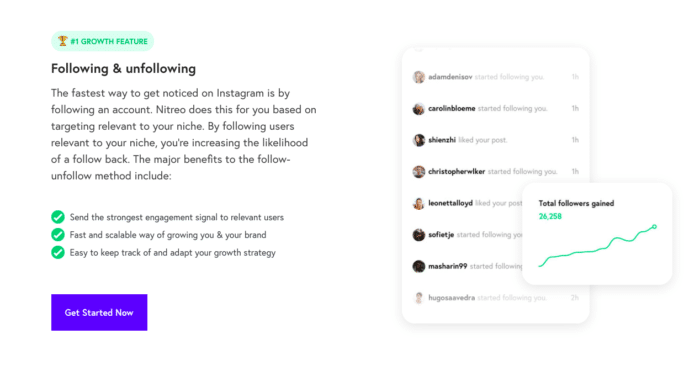 Main Features Of Kicksta
Kicksta uses a similar theory but different tactics to help you attract real followers. Like Nitreo, the foundation of Kicksta's strategy is engagement marketing. When you interact or engage with someone on Instagram, they're likely to be curious and want to come check out your profile to see who you are and if you're someone they want to engage with, too.
The problem with engagement marketing is that it can take a lot of time, as you'll need to engage with many accounts before you can expect to have someone engage with you in return. Kicksta, like Nitreo, can help you automate that process. You want to engage with your target audience, not fake followers.
Kicksta will engage and interact with targeted accounts to help you gain ideal Instagram followers. It's a great way to let your potential followers know that your brand exists and they should check you out soon. There are many automation services that help make social media easier, and Kicksta is one of them.
Unique Feature: Kicksta will make targeting suggestions, based on the information they know about your business and who you want to have following you. This is a great way to quickly expand your reach.
Another great Kicksta feature, for higher-level plans, are Welcome DMs. When someone follows you because of Kicksta's efforts, the platform will automatically send them a direct message to help engage them as soon as they're a follower. This is a great way to connect with your audience and pave the way for potential future conversations.
Targeting
Nitreo Targeting Options
Speaking of targeting Nitreo offers a wide variety of unique targeting options. One way they do this is by targeting similar users to your account. They'll work to mimic the follower base of target accounts that are similar to your own, thus creating a strong audience for you. They also offer a Smart Hashtags targeting feature. When you begin to supply hashtags that will likely work for your audience, Nitreo will automatically suggest relevant long-tail hashtags that can focus your targeting more narrowly. They also offer location-based targeting so you can find people in the best geographic area for your brand.
They also have a host of advanced targeting options. You can use these filters to set minimum and maximum follower counts, how many people a potential follower is following, minimum number of posts, engnagement rate, and many other specific metrics. This allows you to get very granular and prescriptive about the Instagram users you want to target.
Kicksta Targeting Options
Kicksta also has you upload a few target accounts whose followers are similar to your ideal followers to get started. Once your account is up and running you'll always be able to add more people to target, which can help better inform the Kicksta AI to create a more accurate targeting plan.
Kicksta offers some unique ways to find and target ideal followers. You can add influencers in your industry, as well as competitors, if they align with your brand. Sometimes these accounts can be very popular and you can access many potential followers with one target.
You can also add hashtags that can help you better target your ideal followers. Hashtags are incredibly important for your Instagram strategy. When you know what your ideal followers are searching for, you can use that information to search for and target certain hashtags. Beyond that, knowing the hashtags your target followers are using means you can create content better targeted to them, and you can use those same hashtags on your posts. This increases the likelihood of having your posts found organically by your ideal followers.
Finally, you can also target your potential followers by location using Kicksta. If you have a local business, you probably need to find followers in a particular geographic area. However, online businesses and those that aren't constrained to a certain area can still benefit from location-based filters. Many people want to engage with and support businesses in their area, even if they aren't brick-and-mortar locations. Or, you can use the location feature to target areas you want to expand your business into in the future.
Filters
Nitreo Filtering Options
Up next in our Nitreo review, let's talk about filters. Sometimes there are accounts you specifically want to avoid. With Nitreo's blacklist and whitelist capabilities, you can be sure that you're only engaging with people you want to have following you. Any accounts that you're already following will be whitelisted, and any followers you have will automatically be added to the whitelist, too. You can add anyone you like to the whitelist, which won't let Nitreo unfollow them. Nitreo also offers a fully automatic blacklist. You can't manually add people to the blacklist, but it will avoid engaging with content that's explicit or derogatory.
Kicksta Filtering Options
Kicksta offers a number of filtering options so you can ensure you're reaching the most relevant accounts for your brand. You can certainly filter by gender, but their options reach further than that. You can also filter to skip accounts that don't speak English, as well as those that use profanity. Kicksta offers filters to ignore business accounts, too, which is perfect for business-to-consumer businesses.
If you want to get granular about it, you can blacklist any accounts that you specifically don't want Kicksta to interact with on your behalf. For instance, if you want to avoid a certain competitor, add them to your blacklist and Kicksta will know to stay away. On the other hand, there might be accounts that are already following you that you don't want Kicksta to engage with because you've already built a personal relationship with them. Add them to your whitelist and Kicksta won't engage with them, either. Any accounts that Kicksta gains for you will automatically be added to your whitelist so they don't interact with them again.
Analytics/Reporting
Nitreo Review: Analytics And Insights
Now that you've made your selections to target the best accounts possible, it's time to measure and analyze your results so you can see what's working and what tweaks you could be making. Now, Nitreo makes suggestions for new hashtags and users to follow and add to your targeting. However, they don't appear to offer any analytics or insights beyond that. Instead, they simply say that you'll see more engagement on your account within a few days.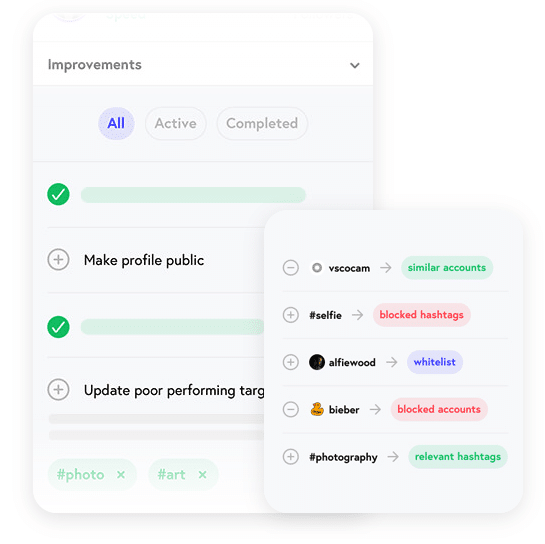 Kicksta Review: Analytics And Insights
Kicksta understands that it's important to have data you can see, measure and analyze throughout your Instagram growth process. When you work with Kicksta, you get a dashboard so you can see your follower growth over time. You can see long-term trends, as well as individual daily changes.
Beyond that, you can look at individual targets to see which accounts are working well for you and which aren't converting as well as you'd like. You can see which targets are underperforming so you can remove them easily. When you spot trends in terms of which targets are creating high returns, you can then make decisions to find more accounts that are like those so you can continue to grow your following well.
Customer Reviews
When you're looking into a new service, it's often helpful to hear from others who have used it before. This is a great way to discover how Kicksta and Nitreo work for real customers. While you shouldn't base your decision solely on reviews, they can help inform your thinking. Let's take a look at reviews of both services.
Nitreo User Reviews
Nitreo has 1.7 stars on Trustpilot. Unfortunately, many of these reviews claim that the service is a scam, although there are a few good reviews, too. Here are a couple reviews for example.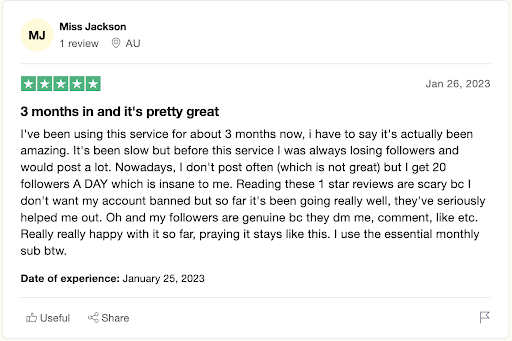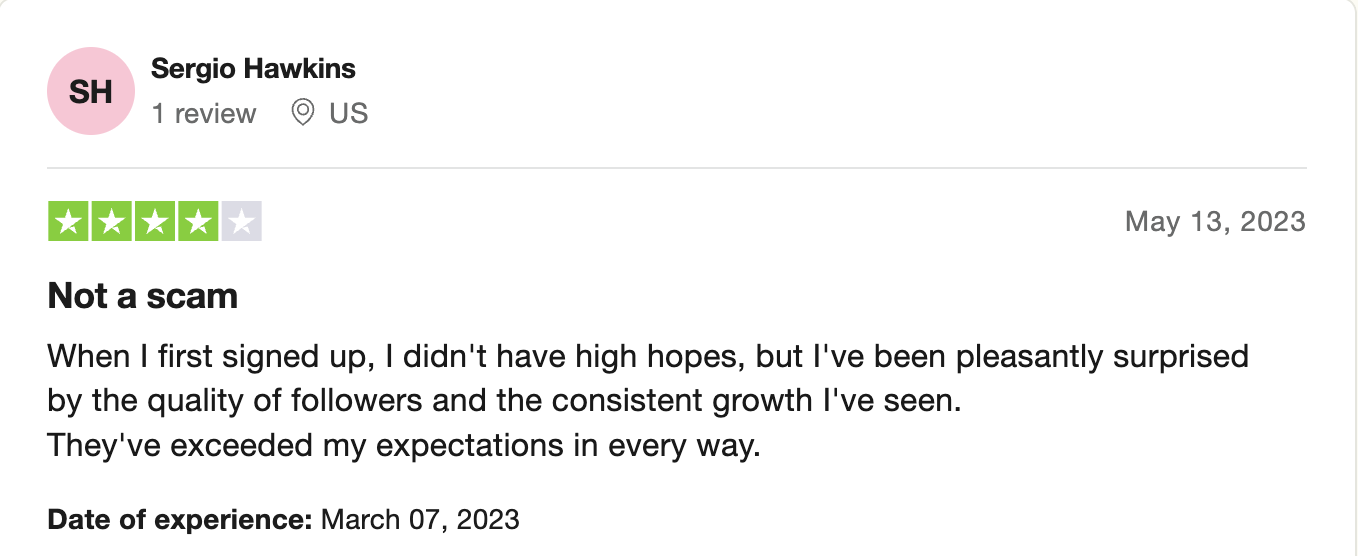 They also include reviews and testimonials on their website. This is one of those reviews: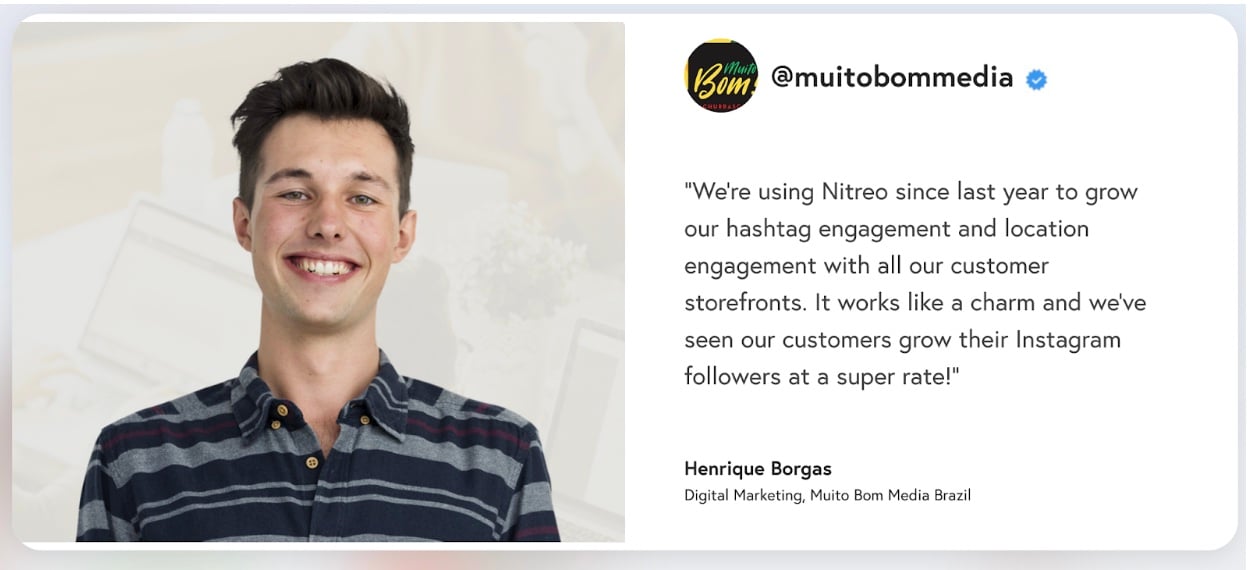 Kicksta User Reviews
Kicksta has 3.3 stars on Trustpilot, and their reviews range from 1 to 5 stars. Here are a couple of example reviews. People tend to focus on the organic growth they see with Kicksta.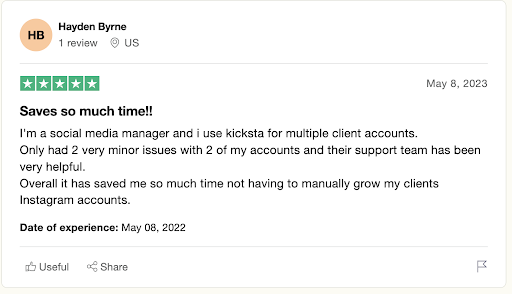 And, like Nitreo, Kicksta also includes reviews and testimonials on their website, so here's an example of that.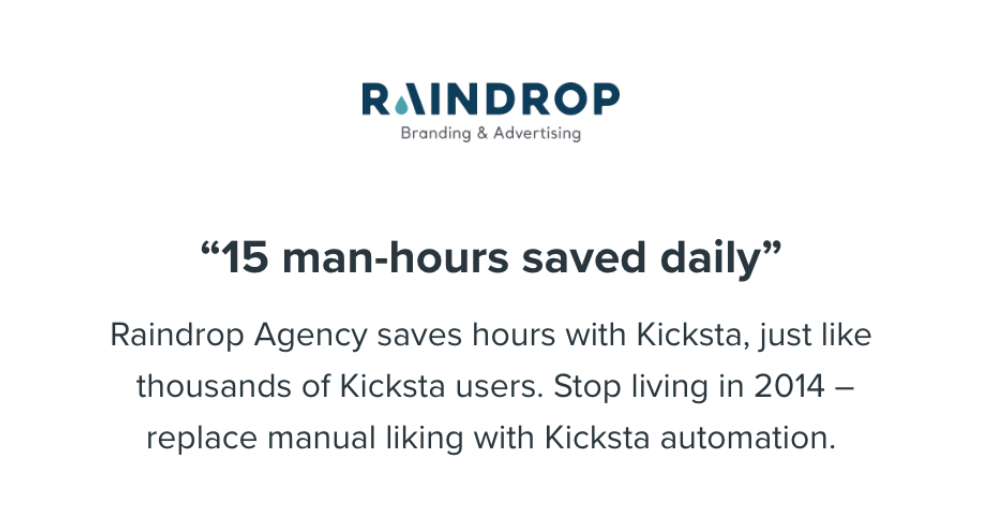 Pricing
Nitreo Pricing
Now that you know what's all included with Nitreo, let's talk about their pricing structure. They offer two different levels: the Essential plan and the Speed plan. The Essential plan comes in at $49 per month and includes things like fast growth, essential targeting options, standard support, and a speed limit.
The Speed plan, on the other hand, prices out at $79 each month, and it includes faster growth, access to all targeting features, priority support, and maximum speed. The extra targeting features this plan includes are Story viewing, comment liking, location targeting, and advanced settings. The Essential plan does not include any of these.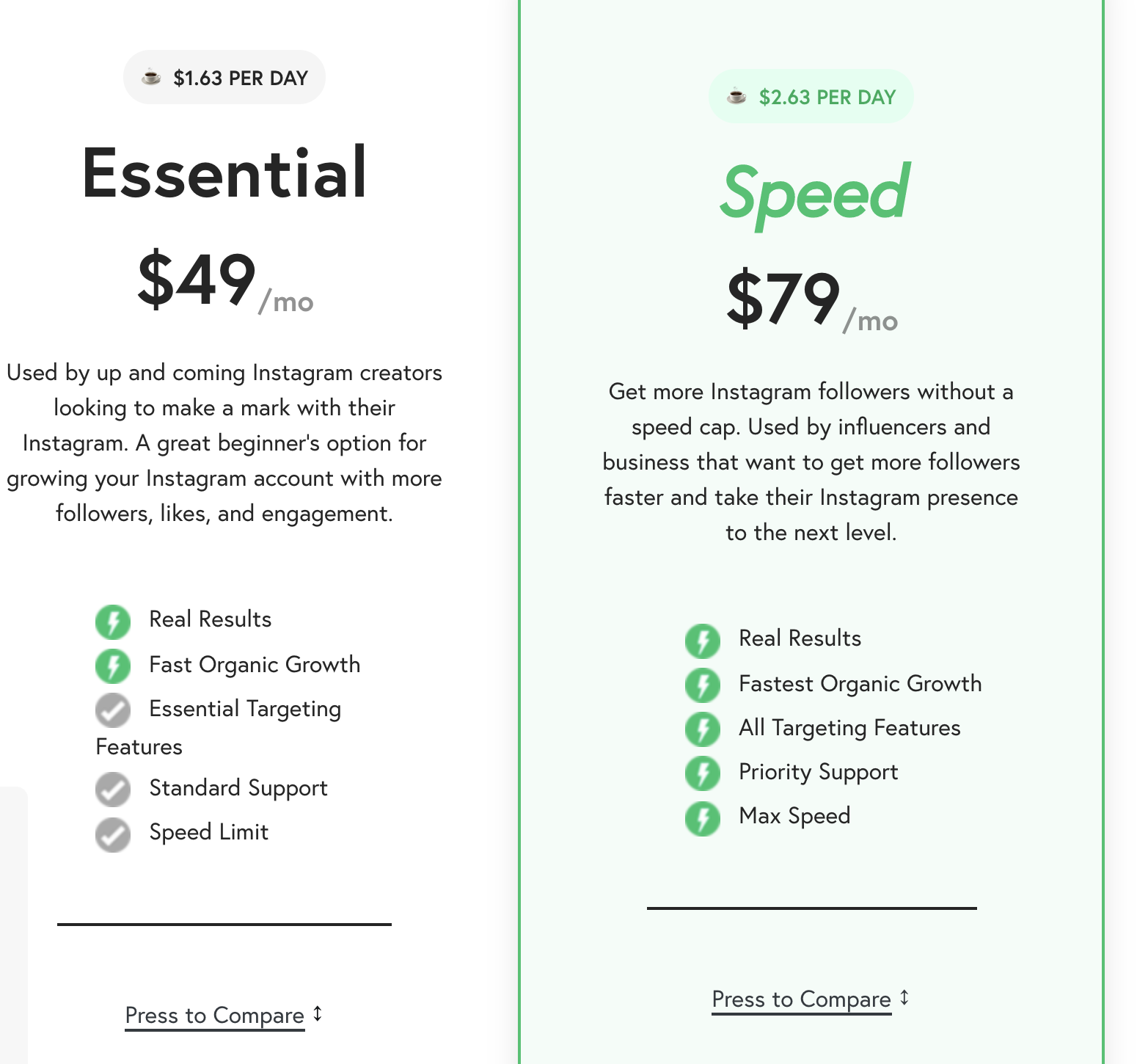 Kicksta Pricing
Kicksta offers three different pricing tiers: Starter, Advanced, and Ultimate. The Starter plan is $69 per month, and it includes low growth speed, basic targeting, whitelist and blacklist capabilities, and the dashboard. This plan also comes with the clean home feature, where Kicksta will automatically mute the accounts they follow on your behalf to keep your feed clear.
The Advanced plan is $129 per month, and it features moderate growth speed and everything the Standard plan offers. Beyond that, though, the Premium plan also includes VIP email support, Welcome DMs and Story likes, gender filtering and targeting suggestions.This is a popular option for someone looking to grow their Instagram following.
The top plan is the Ultimate plan, for $219 per month, and it features everything you get with the Advanced plan with high growth speed, plus promotions from a network of influencers through a partnership with InfluenceGrid. These promotions guarantee you 2,000 followers per month, on top of what you'll gain through Kicksta's growth services.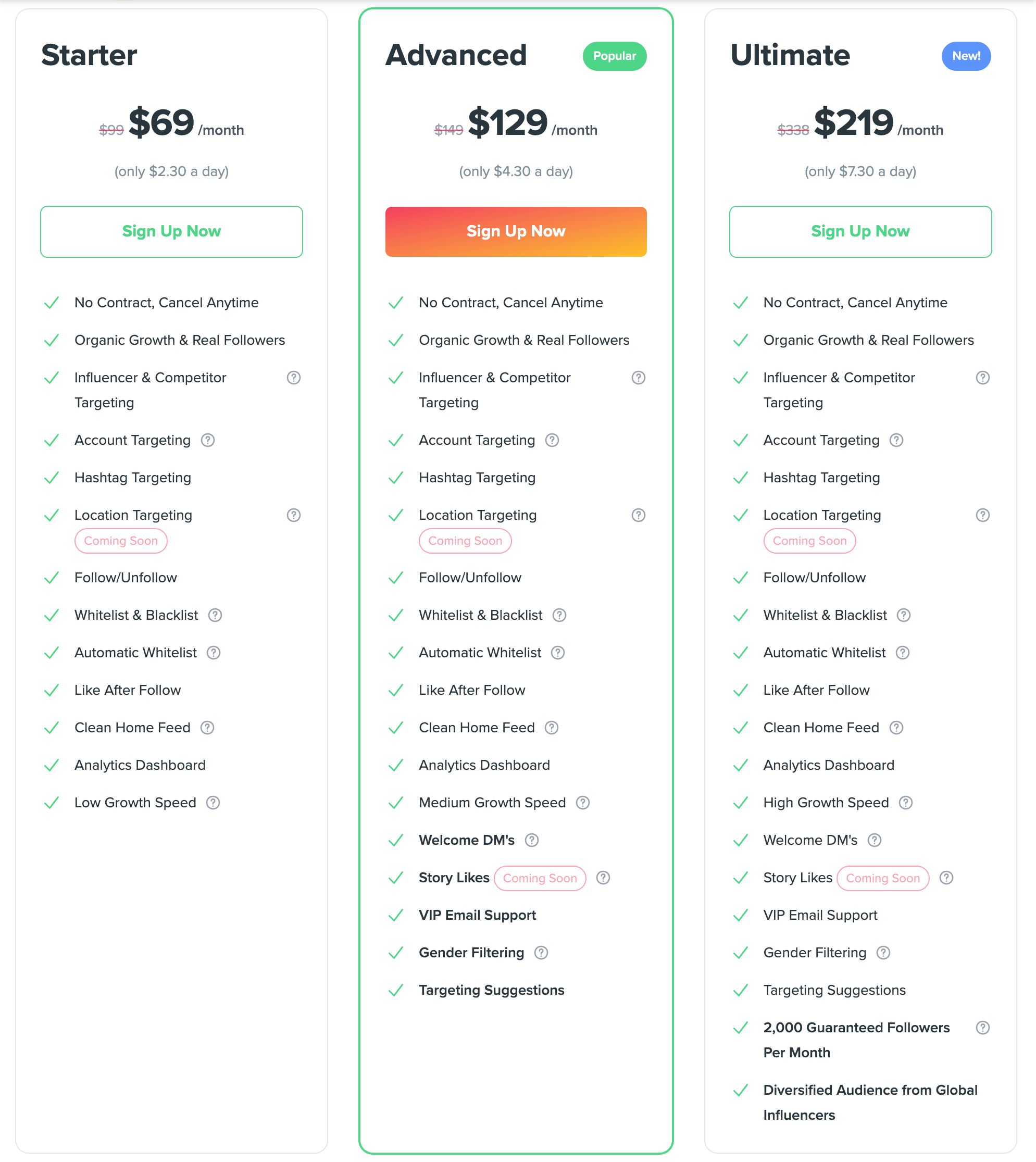 Support and Customer Service
Nitreo's Scope Of Customer Service
As the final part of this Nitreo review, we'll look at customer support. When you look for Nitreo's customer service options, they'll point you toward the general contact form on their website so you can get in touch with their customer support team. It doesn't seem as though they have dedicated support personnel for their customers, as opposed to those who are reaching out to gather information about the product. Additionally, while they have a Help Center, the link doesn't seem to work or send you to a secure site.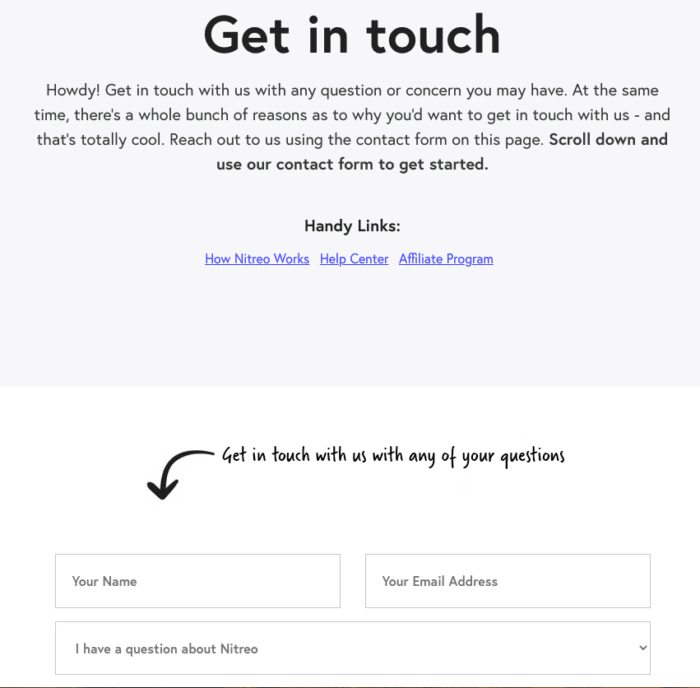 Instagram Growth Hacks
Join over 100,000+ marketers and influencers who get the latest Instagram tips & tricks sent to their inbox every week
Thank you! Your submission has been received!
Kicksta's Scope Of Customer Service
The Kicksta team supports you every step of the way throughout your experience using this growth service. All customers can reach Kicksta via email, but their Premium customers receive VIP support and service. Kicksta likes to ensure that customers always know they can get a hold of someone when they need to have a question answered. Investing in a new platform like this can be nerve wracking, but the Kicksta team is there with you every step of the way so you know you're never alone.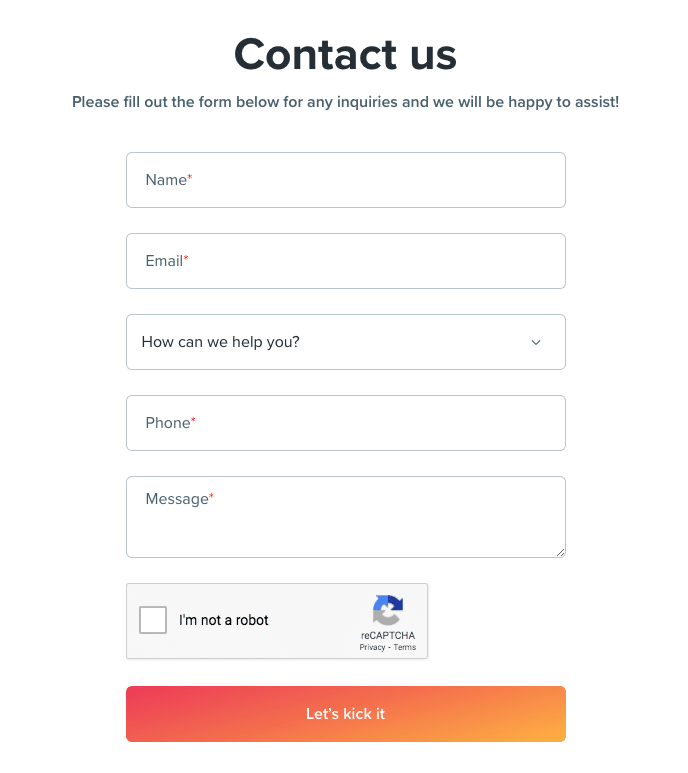 Overall Comparison
Now that we've compared each part of Nitreo vs. Kicksta, it's time for you to make a decision as to which is legit and which is best for you. You know your brand's needs best of all, and you can make the right choice for your business. This thorough Kicksta and Nitreo review should give you the confidence to begin your decision-making process.
If you're looking for a growth service that lets you filter your targets and really analyze your performance, Kicksta is the winner. At the end of the day, only you can make this decision, so consider your goals and what features are important to you before you make any decisions.
Choosing an Instagram growth service is an important decision, since it can help fuel your success on Instagram. Kicksta is here to help every step of the way when it comes to attracting more real, organic Instagram followers. The Kicksta team is here to answer any questions you may have as you make your decision. It's time to kickstart your organic Instagram growth today.