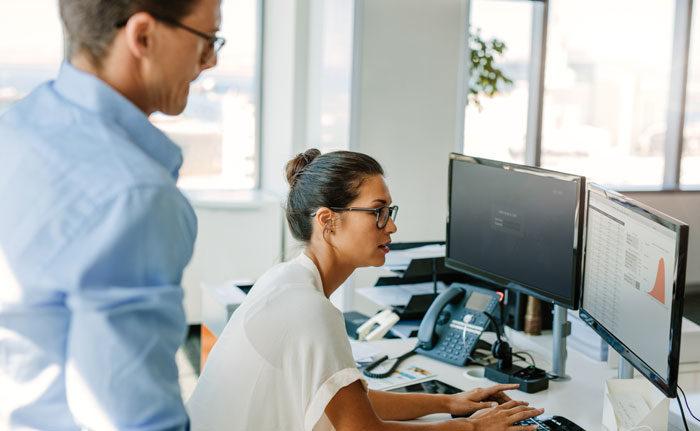 Upleap vs Kicksta: both tools promise exceptional Instagram growth, but which one lives up to the hype? Instagram growth solutions represent a valuable investment for companies keen to leverage a stronger social presence for brand growth.
With millions of active users logging on every day, social media platforms represent an incredible way for businesses to connect with their target audience, develop brand awareness, and earn sales. In fact, around 3.6 billion people use social media today.
To access the biggest benefits of your preferred social channels, you need to know how to connect with those users and turn them into followers for your brand. Unfortunately, that's often easier said than done. This is where tools like Upleap and Kicksta come in.
Both Upleap and Kicksta are growth services built to deliver more followers to your social strategy. The question is, which one works best?
Quick Links
Show ▼ Hide ▲
Growth Processes: Upleap vs. Kicksta
How Upleap Works
Upleap is a tool for buying Instagram followers, and boosting your account presence. Upleap recently changed its business model, and now aims to support companies in getting their followers faster, with straightforward follower purchasing packages.
You simply visit the Upleap website and choose the number of followers you want to buy. They recently moved their website from upleap.com to upleap.net. There are packages for 500 followers, 100 followers, and more. The more followers you buy, the more likely you are to benefit from one of Upleap's discount options.
Users don't have to hand over any account information to use Upleap. You simply place your order, let the team know where you want your followers to go, and you'll start getting new audience attention within around 24-72 hours.
Upleap promises that you can grow your account faster with purchases that cost as little as $3.22. All you need to do is ensure that your account is "public", so that you can attract your new followers to it.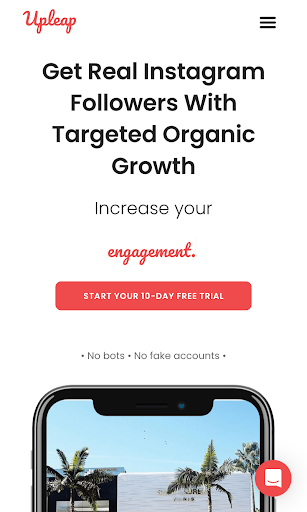 How Kicksta Works
Kicksta takes a very different approach to social media growth. Launched in 2017, the company has provided Instagram growth to over 110k accounts, with their proprietary AI-powered technology, meticulously developed over the last 5 years in San Diego, California. The primary selling point of Kicksta is that it offers real followers – not just fake accounts. Unlike other social media growth tools, Kicksta asks you to provide "target accounts" that feature the followers you want to attract.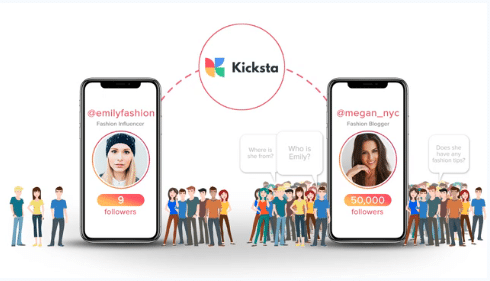 For instance, you might target a competitor with the same audience as you. Kicksta will then analyze the profile you choose, and approach relevant followers for your company. By "liking" posts from these followers, Kicksta encourages real people to like your account back.
While not everyone on your target accounts may end up following you in return, Kicksta has a massive success rate. Plus, you get the extra bonus of knowing that the followers you do get are more likely to be genuine people who will engage with your account.
Like Upleap, Kicksta promises a completely safe experience. You're not going to spam anyone, or use bot accounts, so your profile won't be hit by any Instagram penalties.
Upleap vs Kicksta: Features
Though both Upleap and Kicksta are similar in the results they promise, the two companies take a vastly different approach to helping you grow. Upleap is more about speed, getting its customers the highest number of followers fast, so they can begin to enhance their appearance online. Kicksta is all about finding genuine customers who will engage with your brand.
Upleap Features
Upleap is a pretty simple service.
The solution allows you to buy packages of followers to add to your account, no matter which industry you might be in. The company has delivered around 75 million followers to customers so far and has a lot of positive feedback from its customers.
The features you get are exactly the same on every package. The only thing that changes is the number of followers you get. Features include:
Fast Delivery
Upleap promises ultra-fast delivery of your new followers. After all, the quicker your account grows, the faster you can start leveraging your new-found fame. While the delivery is defined as "instant" on the website, Upleap does say it can take between 24 and 72 hours to see significant results. We can't see any information to suggest where these customers come from, or whether they're relevant to your brand.
Real results
There isn't a lot of information on the kind of results you can expect from Upleap. The reviews we've read online seem to be largely negative, and the company itself only promises "fast" results, rather than genuine engagement or business growth.
Smart targeting
We couldn't see any information on Upleap about how the company "targets" the right followers to add to your account. You might get a quick and simple experience from Upleap, but you don't seem to have much control where customers come from, or if they're right for your business.
Engagement boost
Upleap does say that the experience you get is safe because the team doesn't have to log into your account. You just give the company your username, and they'll start sending followers your way. According to Upleap, Instagram wouldn't penalize any profiles for simply getting a sudden increase in followers – it wouldn't make sense. However, we couldn't see any evidence of whether engagement increased.
Simplicity (No Password Required):
All you need to do to access new followers is choose the number of fans you want to buy and enter your username. There's nothing complicated that you need to do. The only requirement is that your profile does need to be public.
Packages to suit all needs
Upleap allows you to buy all kinds of follower packages, depending on your needs. You can buy huge numbers of followers at once or stick to smaller packages and add more as you become more comfortable with the experience.
Kicksta Features
While Upleap is a basic solution for buying followers and accessing them quickly, Kicksta is far more intelligent. There are absolutely no fake followers, bots, or spam issues to worry about with Kicksta. Instead, you get access to an intelligent AI algorithm, which accelerates your Instagram following quickly and easily.
The major features of Kicksta include:
Real followers
The most important feature of any Instagram or social media growth tool, Kicksta delivers genuine, authentic followers. Instead of automating messages or filling your account with bots, Kicksta uses AI to like photos of Instagram users connected to your target accounts. This naturally convinces customers to check you out and follow you back.
Real results
Because Kicksta focuses on engaging with real customers and potential followers on your behalf, they get you engagement from genuine people. While having many followers on Instagram is great, connecting with people who genuinely want to interact with your brand is the key to improving your profits.
Smart targeting
Unlike Upleap, which seems to give you a handful of random followers as quickly as possible, Kicksta concentrates on AI chosen followers. Kicksta's system assesses the target accounts you've chosen to find relevant followers who will genuinely engage with your brand. If your customers follow your competitors, they're likely to follow you too.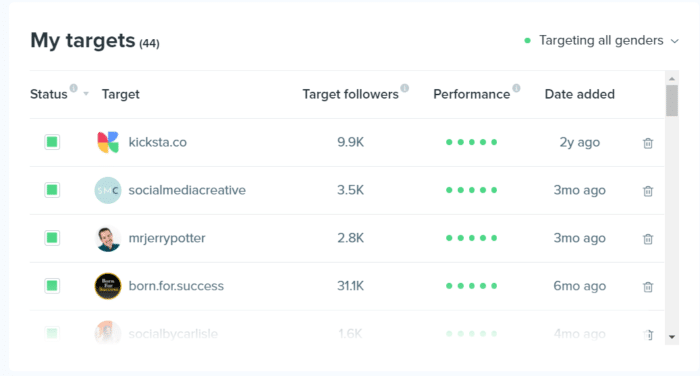 Engagement boost
As mentioned above, because you can target the exact accounts and followers you want to attract, you don't just increase your number of followers with Kicksta. The solution improves your engagement level too, which could lead to more sales and conversions in the long term.
Filtering
Upleap used to have filtering options on its previous business model, but now there doesn't seem to be any options for this. Filters on Kicksta allow you to avoid things like private accounts or inactive accounts. You can avoid liking comments with profanity and select your followers while avoiding business accounts.
Upleap vs Kicksta: Reporting and Statistics
When investing in an Instagram growth service, it's important to keep track of how well your strategies are really working. Reporting and statistics help with this. The right dashboard environment gives you an insight into your growth levels, how your filtering strategies are working, and how much engagement you've earned.
Upleap Reporting
Unfortunately, we couldn't find any sign of any reporting or statistics solutions on Upleap. From what we can assume, the best you can do is use your in-built Instagram Insights to see if your engagement levels are increasing after you buy each package.
Kicksta, on the other hand, has a lot of valuable information to offer.
Kicksta Reporting
Kicksta allows you to choose exactly which customers you want to target, and how you want to filter your growth. You can avoid certain kinds of customers, use blacklists to stay away from specific customers and more. Within your customer portal, you can also check on your company's growth, and examine everything in your "Followers Gained" section.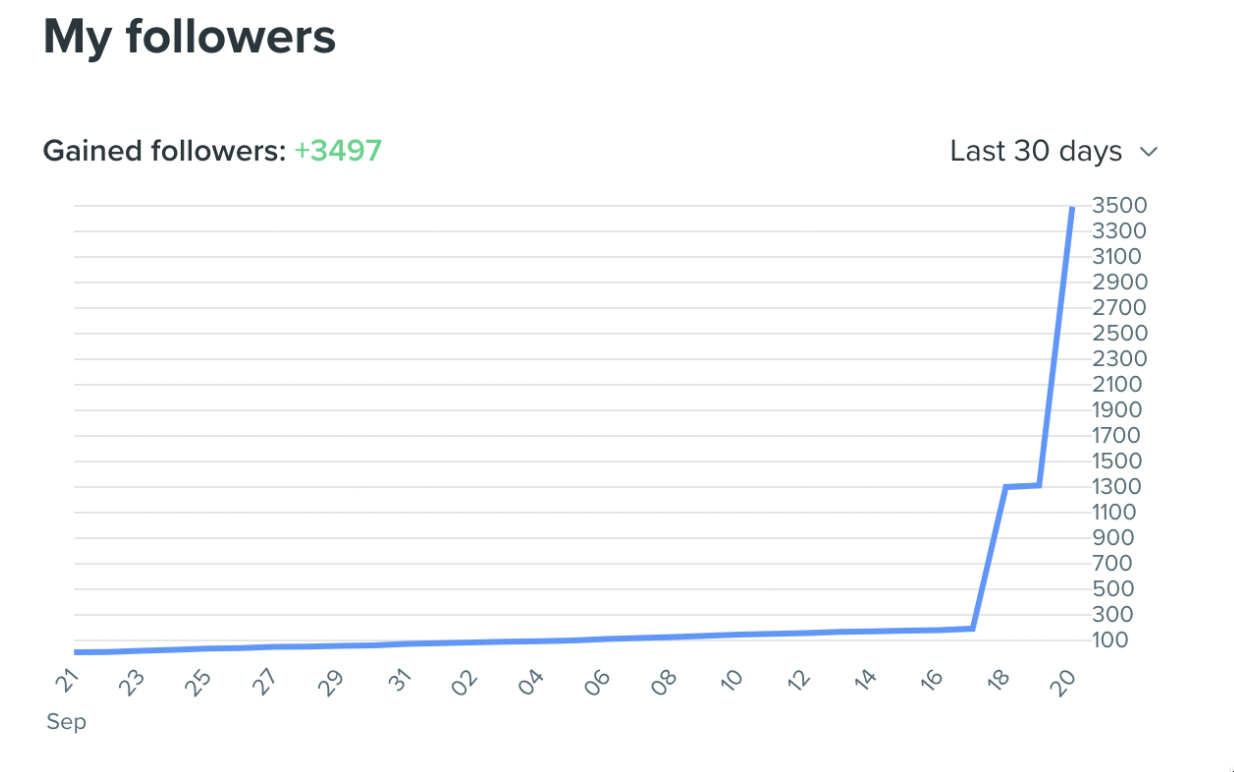 The daily stats section shows you how many followers you've gained. You can also monitor the performance of target accounts and change the accounts you target whenever you like.
Kicksta's Targeting Methods
With Kicksta, you can start targeting your audience by choosing locations, hashtags, and specific accounts that are similar to your brand.
Once you set these specifications, Kicksta will begin to interact with other Instagrammers that follow the accounts that you've targeted by liking their posts. Since your target accounts will be similar to your brand, these users will likely be interested in following you based on your content.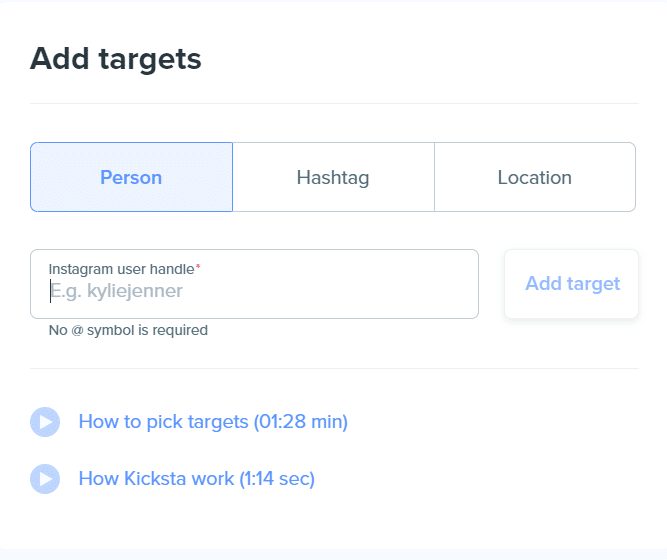 >Nervous that you'll come back to find that you're following users that are off-brand? With Kicksta, you don't have to worry about that. Kicksta never likes or follows accounts that don't align with the preferences that you've set with your target audience.
Kicksta interacts with real users that have a genuine interest in your brand to not only grow your following but your engagement as well.

Upleap vs Kicksta: Pricing
Both Upleap and Kicksta take a pretty straightforward approach to pricing.
Upleap Pricing
Upleap charges customers based on the number of followers they want to buy. 100 followers will currently cost around $3.32, while 500 followers costs $13. There's a $19 package available with limited-time deals for 1000 followers. You can also contact the team if you have a specific bundle request in mind.
Upleap offers no freebies or trial packages, but there are various "discounts" offered at different points during the year.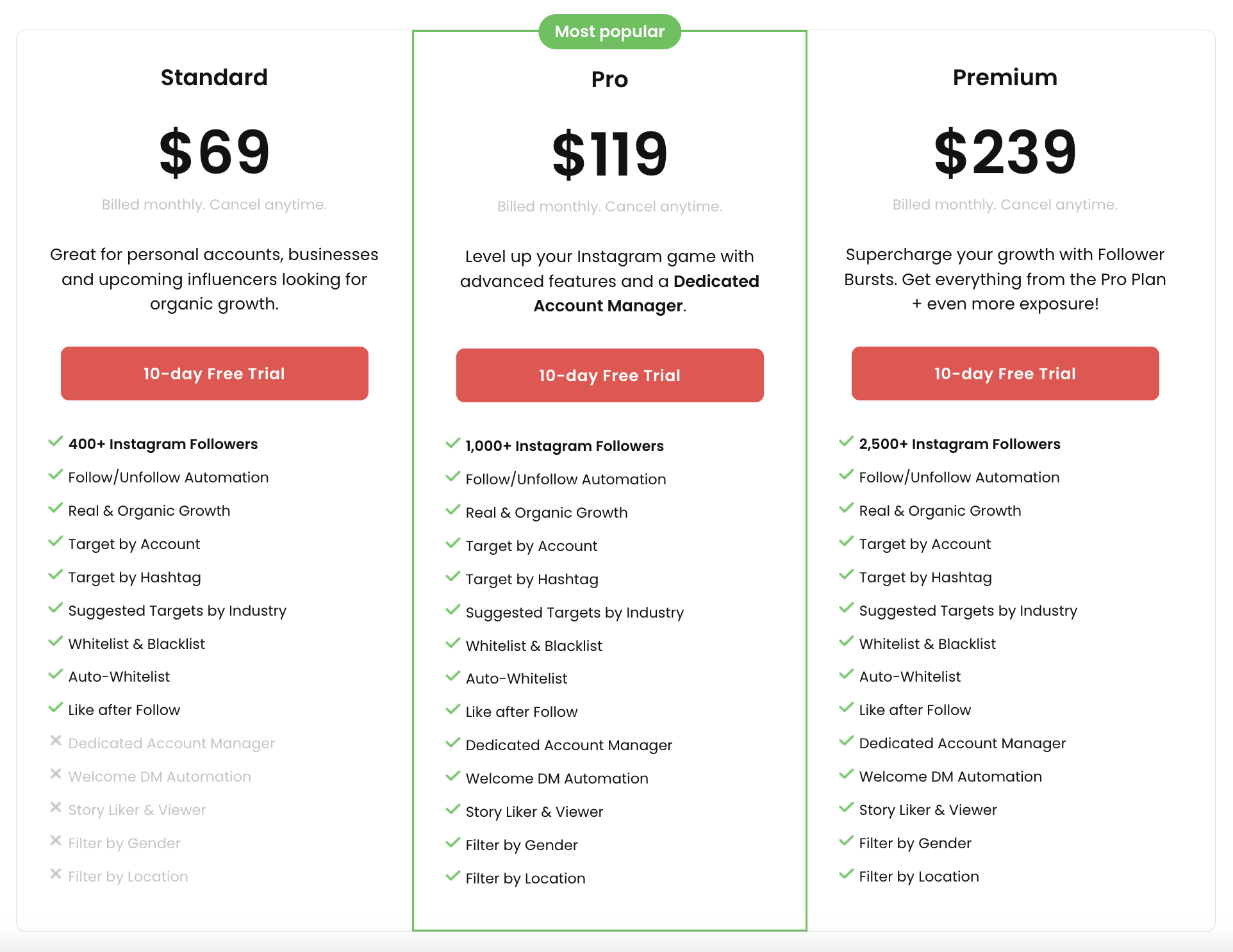 Kicksta Pricing
Kicksta offers 3 core pricing plans to choose from, starting at $49 per month.. There are also no lengthy long-term contracts, so you can rest assured you can cancel your subscription at any time. Every package also includes access to exclusive video onboarding to help you make the most of your service.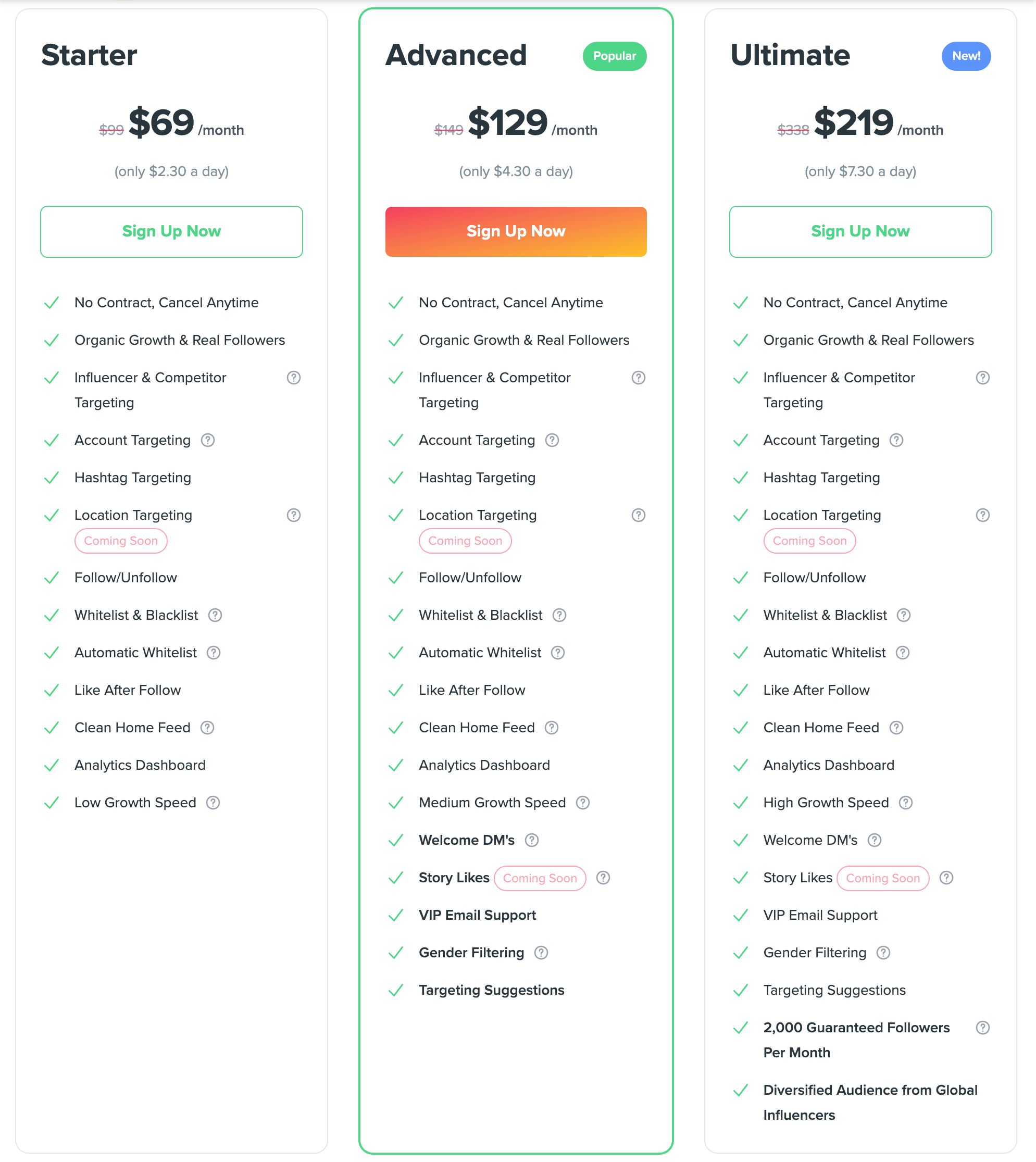 Kicksta's Standard plan for $49 per month gives you access to Kicksta's AI-driven automation solutions, with 10 Instagram targets, and moderate growth speed.
The Premium plan kicks things up a notch, with maximum growth speed, with 40 Instagram targets, VIP email support, and additional features. You can use a Blacklist to reduce your exposure to unwanted followers, and use advanced targeting methods with hashtags and locations.
If you're looking for bonus support, the Kicksta Pro for $189 per month plan includes all of the features of Premium, but it also provides access to Kicksta's Promotion monthly services. These ensure you'll get at least 1,200 guaranteed followers per month. Plus, you'll be able to leverage Kicksta's micro-influencer connections for a diversified global audience, and you won't have to give Kicksta your Instagram login details either.
Upleap vs Kicksta: Customer Service
Customer support will always be a crucial consideration when investing in any new service or solution. When you're buying something designed to help your social media presence grow, it's nice to know you can contact a professional if something goes wrong.
Upleap's Customer Support
To contact support with Upleap, you can use the chat box in the bottom right corner to talk to support.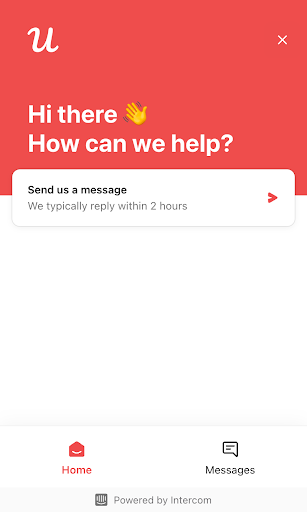 If you don't find the answer you're looking for, you can submit a request.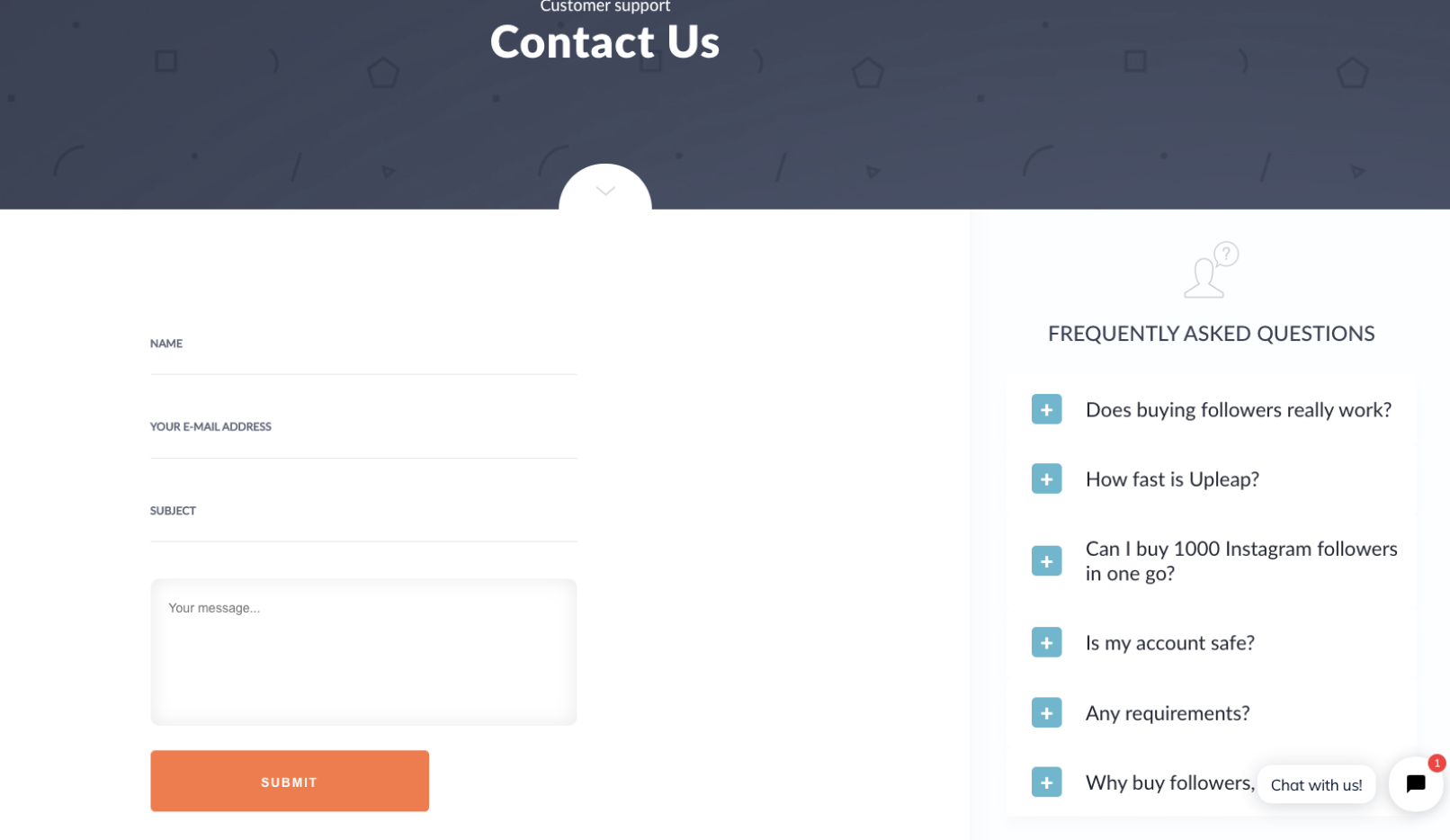 Upleap promises 24/7 support, with FAQ answers, and email requests if you have a specific issue that you need to look into. Unfortunately, although Upleap claims to have fantastic customer service, the majority of the reviews about the company were all negative. Unfortunately since they moved their website to upleap.net you can no longer see all their previous reviews on Trustpilot. Here is an old review: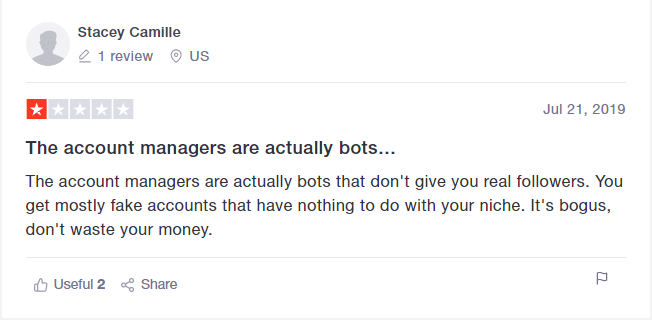 Kicksta's Customer Service
Kicksta's customer service is on a totally different level. If you have the Premium plan, you can access customer success managers who work with you on picking your targets and helping to optimize growth. Kicksta also has video courses, FAQ sections, and other content to help you figure out the answers to your questions too.
Kicksta has a 7-day money-back guarantee, and you get your own profile where you can view your results, keep track of your growth, and even change your target profiles whenever you choose. You can cancel your account at any time, and Kicksta's service remains flexible.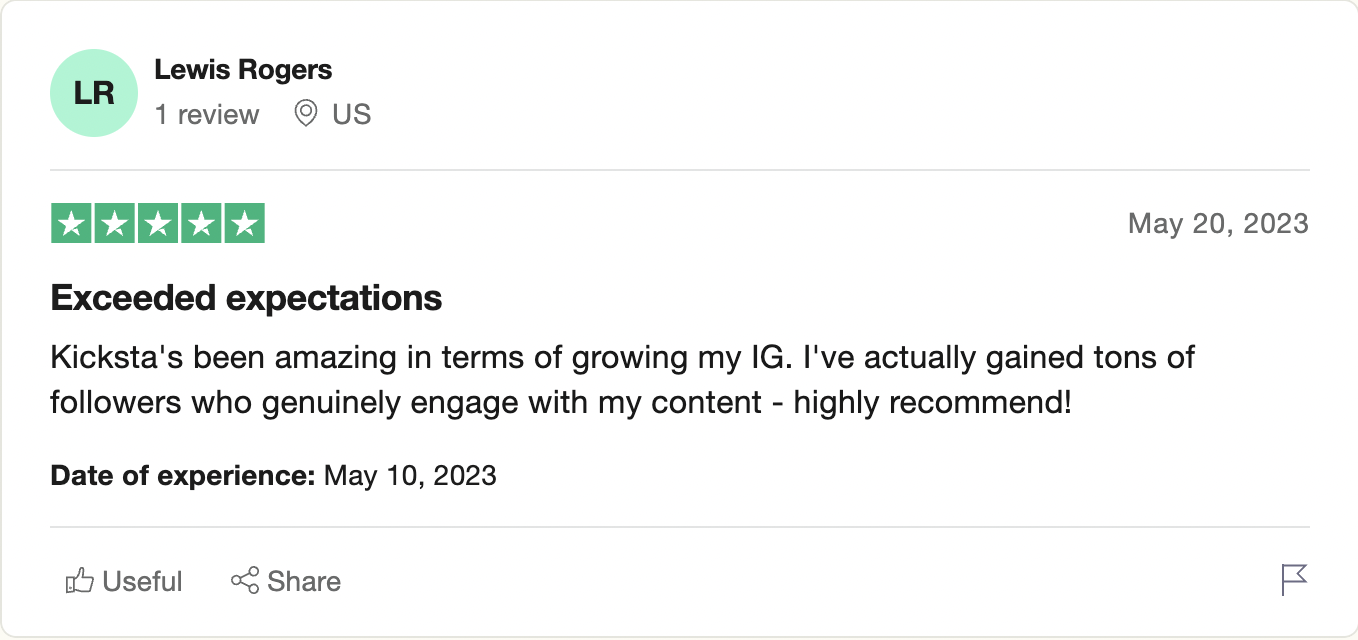 Upleap vs Kicksta: Which is Better?
Ultimately, the choice of whether to use Kicksta or Upleap seems obvious.
While Upleap promises "fast" results, that's all it can really offer. The company will give you several new followers quickly, but there's no guarantee that those followers are real or that they'll give you any improvement in engagement.
Kicksta, on the other hand, genuinely works to grow your social media presence long-term. By helping you to choose new followers relevant to your brand and industry, Kicksta ensures you can connect with potential customers. Kicksta gives you access to people who will grow your company through quality interactions.