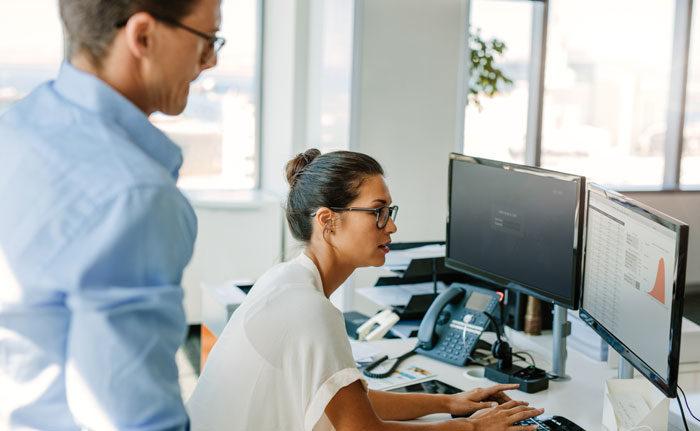 Upleap vs Kicksta: both tools promise exceptional Instagram growth, but which one lives up to the hype? Instagram growth solutions represent a valuable investment for companies keen to leverage a stronger social presence for brand growth.
With millions of active users logging on every day, social media platforms represent an incredible way for businesses to connect with their target audience, develop brand awareness, and earn sales. In fact, around 4.2 billion people use social media today.
To access the biggest benefits of your preferred social channels, you need to know how to connect with those users and turn them into followers for your brand. Unfortunately, that's often easier said than done. This is where tools like Upleap and Kicksta come in.
Both Upleap and Kicksta are growth services built to deliver more followers to your social strategy. The question is, which one works best?
Quick Links
Show ▼ Hide ▲
Growth Processes: Upleap vs. Kicksta
How Upleap Works
Upleap is an Instagram growth service that can help you boost your account performance on the app. They offer a 10-day free trial that you can set up in a matter of minutes to test out their service before you make any firm decisions.
You simply visit the Upleap website and choose the number of followers you want to buy. They recently moved their website from upleap.com to upleap.net. There are packages for 500 followers, 100 followers, and more. The more followers you buy, the more likely you are to benefit from one of Upleap's discount options.
Their process is fairly simple. Once you create an account, you'll log into your Instagram account and set up your targeting configuration. Choose the accounts and hashtags you want Upleap to engage with for you, and then they'll start doing so.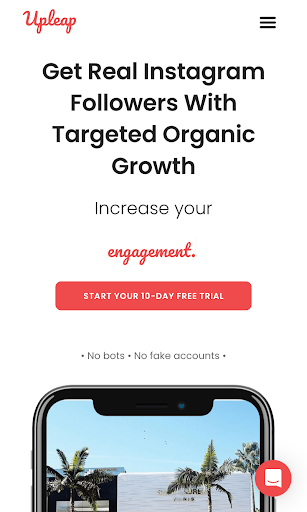 How Kicksta Works
Getting started with Kicksta is a simple process. Simply choose your plan, provide your Instagram credentials and make your payment. Then, you'll be able to adjust Kicksta's targeting features so you know you'll be reaching the right accounts.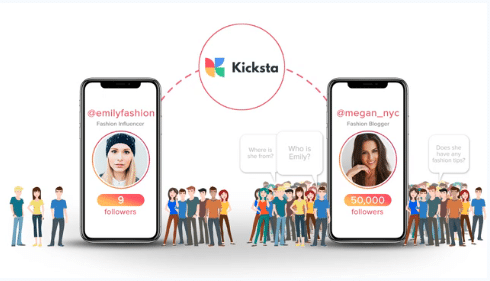 Kicksta's AI then takes that information and engages with the accounts that are targeted. This gives them a little nudge to understand that your brand and account exist and that they should check it out. At this point, it's up to your potential follower to check out your profile and decide whether or not to hit the follow button. Higher Kicksta plans also provide Story likes and will send Welcome DMs.
Upleap vs Kicksta: Features
Upleap and Kicksta are similar in the results they promise, and their tactics are somewhat similar, too. Their features, though set them apart. Kicksta shares more details on their site about how they'll find genuine customers who will engage with your brand on your behalf.
Upleap Features
Working with Upleap is fairly simple. Making an account is an easy process, and then you can sit back and let them do the work for you. They offer three different plans that each come at a different price point, and these plans have different features. In general, though, here are the features you can expect to see with Upleap.
Smart Targeting
Upleap says they'll help your account grow with other Instagram users. This will, in turn, increase your natural engagement over time. Organic growth like this is a time-consuming process, but it generates good-quality results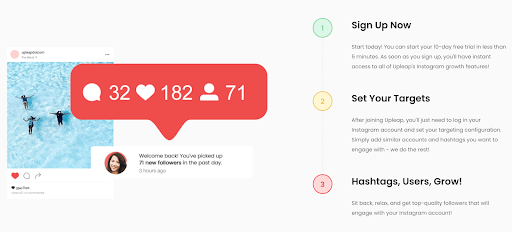 Ongoing Analytics
Upleap offers a dashboard where you can track your progress and see how well they're engaging with accounts on your behalf. That said, there aren't many details about what this dashboard actually looks like or reports.
Dedicated Support
Depending on your plan level, you could have access to a dedicated account manager to help you get the most out of this service. They'll also help you if things go wrong.
Kicksta Features
Kicksta's program has many features, and to begin with there's no contract. You can cancel anytime and begin with a 7-day free trial. Start your Instagram growth without being locked into a long-term contract.
Real Followers
One of Kicksta's most important features is that it will help you generate real, organic followers who are excited to see what you post and engage with your content. Kicksta just lets your potential followers know that you exist, it doesn't force them to follow you. While this might seem like a drawback, it's actually a very important positive. If you fill your audience with a bunch of bots or users that don't care about your content, they won't engage with your posts and you can lose credibility. By holding out for followers who actually want to engage with you, like those who choose to follow you on their own, you can be confident that you're reaching the right people.
Whitelist & Blacklist
Sometimes there are specific accounts that you don't want to engage with for a variety of reasons. For accounts that you already have following you, are important to you, and you don't want to accidentally make them unfollow, put them on your whitelist. Kicksta will automatically add accounts that they engage with to your whitelist so they don't engage with them again. If you don't want to engage with certain competitors or influencers in your industry for whatever reason, you can add them to your blacklist so Kicksta knows to avoid them.
Clean Home Feed and Welcome DMs
When Kicksta follows new accounts on your behalf, they'll also automatically mute those accounts. This way, when you log in and scroll through your home feed, it will stay clean and only show posts from accounts you're excited to see. In two of Kicksta's plans, the program will send welcome DMs to your new followers on your behalf to save you time and jumpstart your relationship with them.
Story Likes and Targeting Suggestions
Nowadays people are posting more and more on Stories and sometimes opt not to post in the feed very often. So, Kicksta is offering a new Story Likes feature for two of their plans to engage and interact with those people who like to stick with Stories. Two plans lean more heavily into the AI side of things with targeting suggestions. As Kicksta's AI sees which targets deliver the most followers for you, it can make suggestions on how to tailor your targeting for better results.
Guaranteed Followers
Upleap offers analytics and reporting, but they don't share information on what's included in their dashboards. Presumably it would include a way to see how many followers you're gaining, but that's not confirmed on their site.
Upleap vs Kicksta: Reporting and Statistics
When investing in an Instagram growth service, it's important to keep track of how well your strategies are really working. Reporting and statistics help with this. The right dashboard environment gives you an insight into your growth levels, how your filtering strategies are working, and how much engagement you've earned.
Upleap Reporting
Unfortunately, we couldn't find any sign of any reporting or statistics solutions on Upleap. From what we can assume, the best you can do is use your in-built Instagram Insights to see if your engagement levels are increasing after you buy each package.
Kicksta, on the other hand, has a lot of valuable information to offer.
Kicksta Reporting
With any plan, you'll get access to an analytics dashboard so you can understand your numbers and how well your account is performing. You'll be able to clearly see how many followers Kicksta is generating and how your account is growing. On top of that, you can see ratings for your targets so you can see which are creating the biggest growth for your account. Check their status and their performance quality, and then make decisions based on that data so you can continue to meaningfully grow your platform.
Kicksta's Smart Targeting Methods
Speaking of reaching the right people, Kicksta offers a wide variety of targeting options. Influencer and competitor targeting allow you to focus on other accounts in your industry whose followers would likely be interested in your brand. Hashtag and location targeting allow you to choose specifics and then will engage with people who engage with those hashtags or use those location tags. For two of Kicksta's plans, gender targeting is also available if you have a gender-specific brand.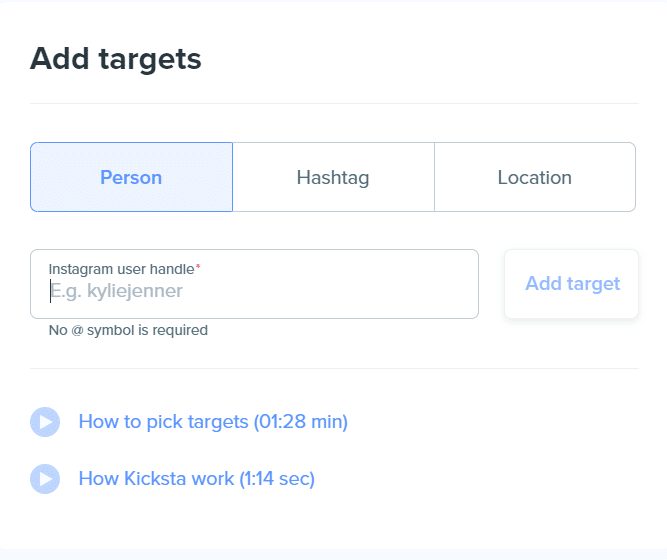 >Nervous that you'll come back to find that you're following users that are off-brand? With Kicksta, you don't have to worry about that. Kicksta never likes or follows accounts that don't align with the preferences that you've set with your target audience.
Kicksta interacts with real users that have a genuine interest in your brand to not only grow your following but your engagement as well.
Upleap vs Kicksta: Pricing
Both Upleap and Kicksta take a pretty straightforward approach to pricing.
Upleap Pricing
As we mentioned earlier, Upleap offers a 10-day free trial, but then they go into three different pricing tiers: Standard, Pro and Premium. Standard is $69/month and includes basic features and over 400 new followers. The Pro plan is $119 per month and includes over 1,000 followers. This plan also gives you access to a dedicated account manager and other advanced filtering and engagement options. Finally, the Premium plan includes everything the Pro plan offers as well as a follower burst to generate even more exposure. This one includes over 2,500 followers and is $239 per month.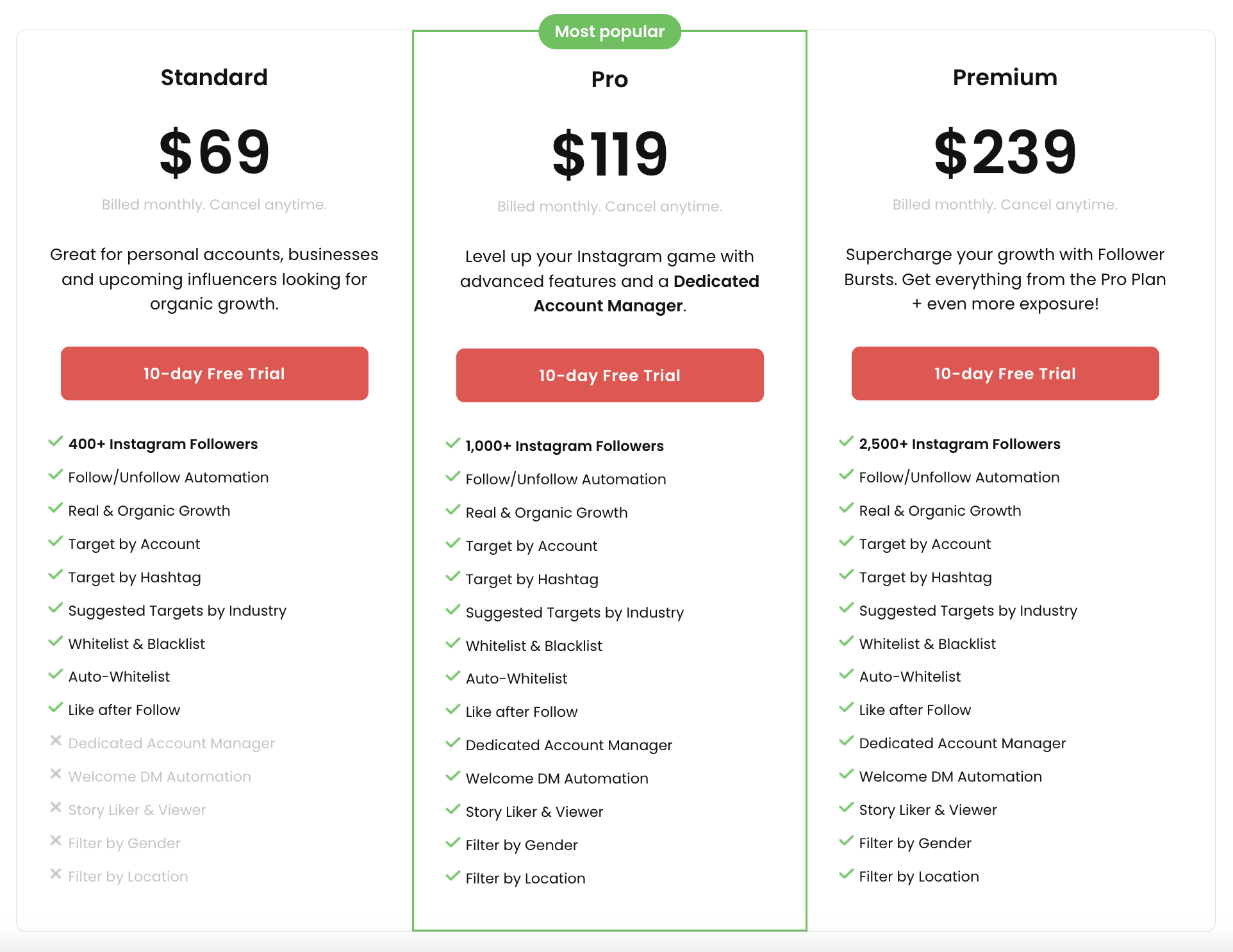 Kicksta Pricing
Kicksta offers three pricing plans: Starter, Advanced and Ultimate. All three plans include basic targeting, whitelist and blacklist capabilities, the clean home feed feature, the dashboard, and both following and liking tactics. The Starter plan has low growth speed and is $69 per month.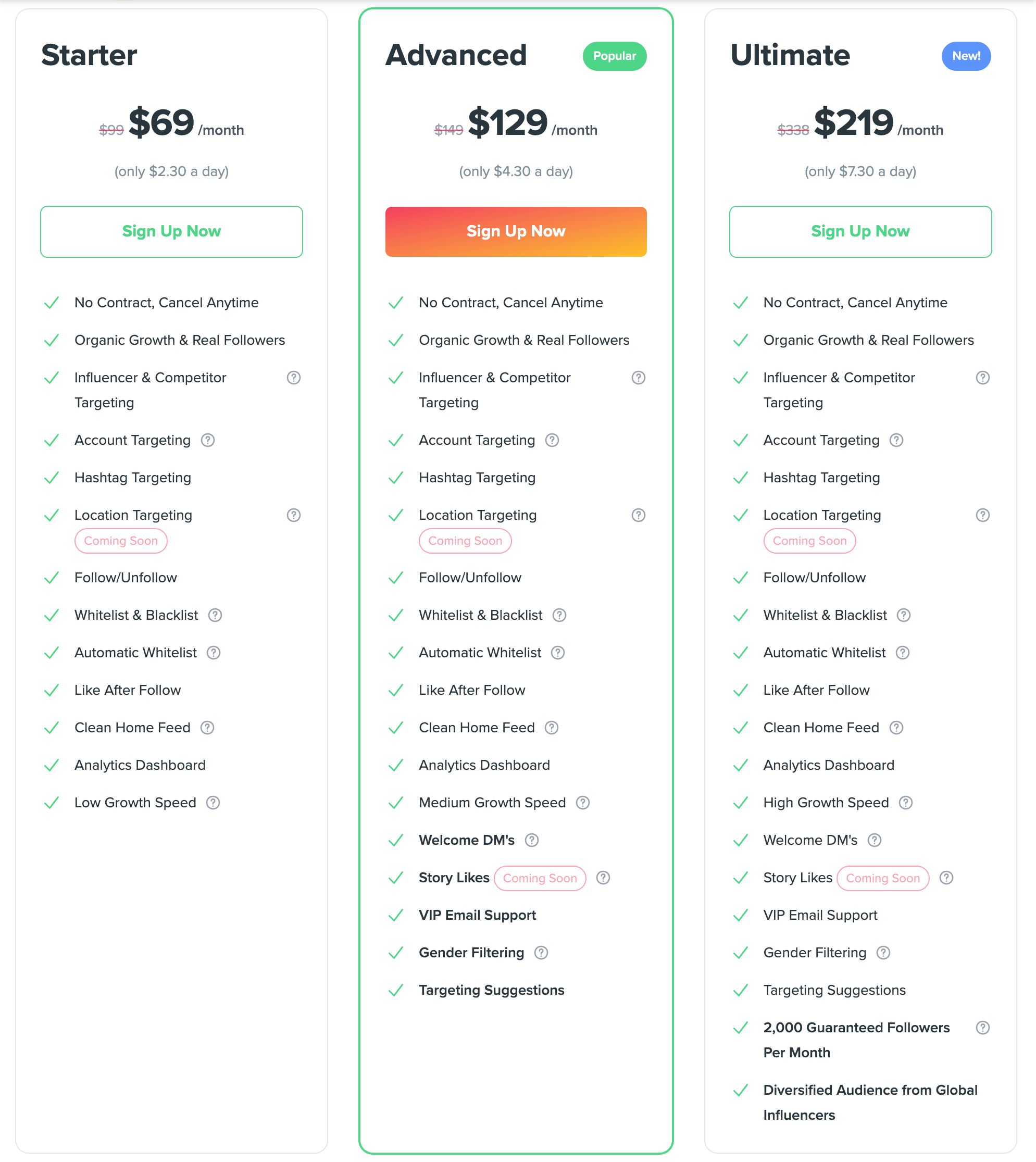 The Advanced plan has everything listed above, as well as the Welcome DMs, Story likes, VIP email support should you need to contact the Kicksta team for anything, gender filtering and targeting suggestions. The Advanced plan has medium growth speed and is $129 per month.
The Premium plan kicks things up a notch, with maximum growth speed, with 40 Instagram targets, VIP email support, and additional features. You can use a Blacklist to reduce your exposure to unwanted followers, and use advanced targeting methods with hashtags and locations.
Finally, the Ultimate plan includes everything that the Advanced plan has but also offers the InfluenceGrid partnership. When you sign up for the Ultimate plan, you'll get a guaranteed 2,000 followers per month, as well as however many followers Kicksta generates. The Ultimate plan has high growth speed and is $219 per month.
Upleap vs Kicksta: Customer Service
Customer support will always be a crucial consideration when investing in any new service or solution. When you're buying something designed to help your social media presence grow, it's nice to know you can contact a professional if something goes wrong.
Upleap's Customer Support
To contact support with Upleap, you can visit their contact page and open their online chat to talk to support.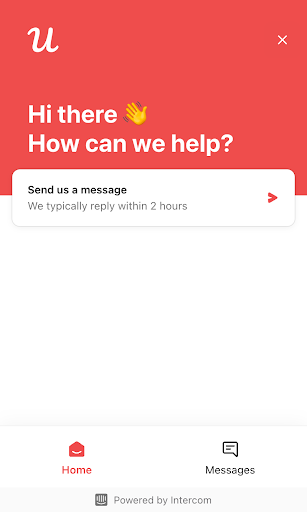 If the chat doesn't work for you, hopefully you have a dedicated account manager because there is no other way to contact their team on the website. They don't have an email address listed or a contact form you can submit.
Kicksta's Customer Service
Kicksta's customer service is on a totally different level. If you have the Advanced or Ultimate plan, you'll have VIP email access to Kicksta's knowledgeable team. Kicksta also has video courses, FAQ sections, and other content to help you figure out the answers to your questions too.
Kicksta has a 7-day free trial, and you get your own dashboard where you can view your results, keep track of your growth, and even change your target profiles whenever you choose. Since there isn't a contract, you can cancel your account at any time, and Kicksta's service remains flexible. Our team is here to support you and help you get the results you want.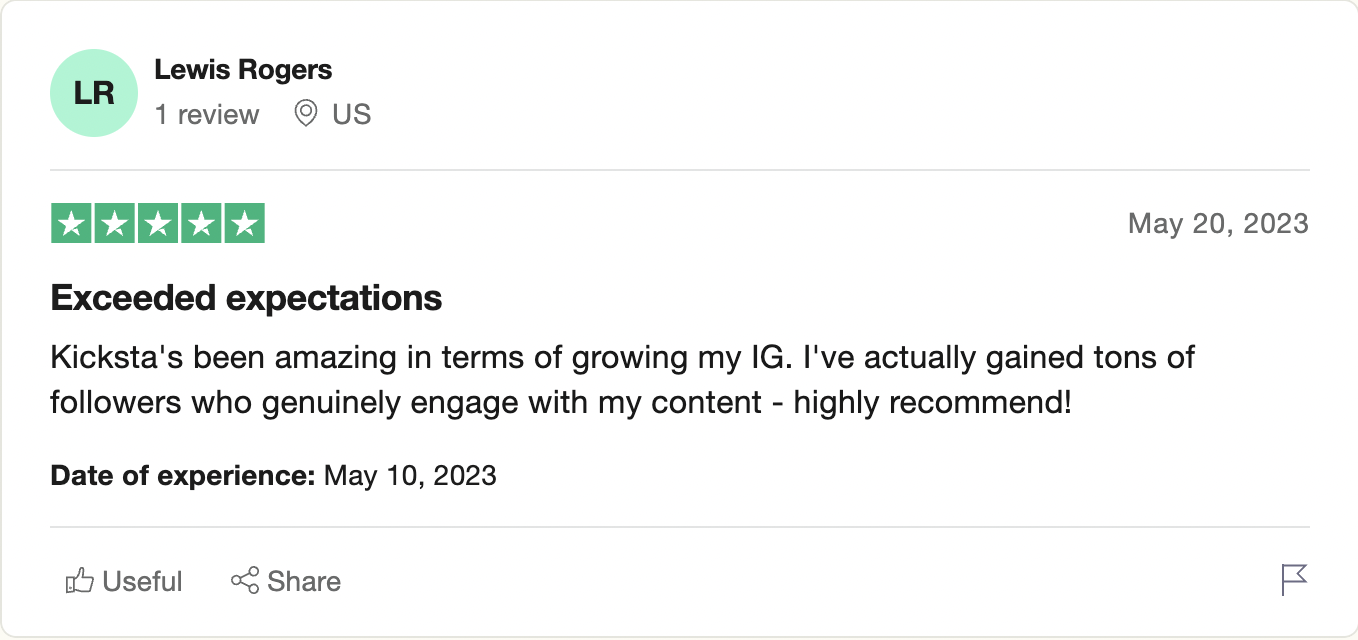 Upleap vs Kicksta: Which is Better?
Ultimately, the choice of whether to use Kicksta or Upleap seems obvious.
Upleap promises similar results to Kicksta, but they don't share as many details about how they'll achieve those results for you. On a similar note, they don't offer many ways to reach out to their customer service team should the need arise. With even the best technology something is bound to go wrong or glitch at some point, and you'll need to be able to contact someone. This lack of obvious communication isn't a great sign.
Kicksta, on the other hand, genuinely works to grow your social media presence long-term. By helping you to choose new followers relevant to your brand and industry, Kicksta ensures you can connect with potential customers. Kicksta gives you access to people who will grow your company through quality interactions.